Beware rip tides. Offshore winds. Rip tides. Rocks.

Follow directions of lifeguards. Take heed of warning

signs that should be displayed at every beach.
Do not swim and drink. Never surf immediately after a meal.
Never surf alone or at night. Know your limits.
Never hire or use a board without having taken advice from experts.
Be considerate of other beach users.
Have a good safe Surf Holiday in Devon.
Choose from our range of cottages in North Devon that are all dog friendly.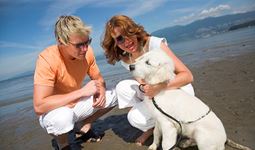 Take a look at our cottages available in North Devon, our complete range of cottages are all situated close to one of the best beaches in the UK, offering you a varied selection with Croyde Holidays.
Error parsing XSLT file: \xslt\[XSLT][TBS]WidgetFeaturedContent.xslt
Error parsing XSLT file: \xslt\[XSLT][TBS]WidgetFeaturedContent.xslt
Error parsing XSLT file: \xslt\[XSLT][TBS]WidgetFeaturedContent.xslt