There may be a delay in our response due to the high volume we are experiencing - if you are emailing us, please include your booking reference number if you have one, we will be able to help you more swiftly. Thank you
Government regulations on COVID-19 change frequently. Before you travel, you need to ensure you have checked and understood the relevant regulations applicable to you, your location, your destination and the make-up of your party as it is your responsibility to ensure the guidelines are adhered to.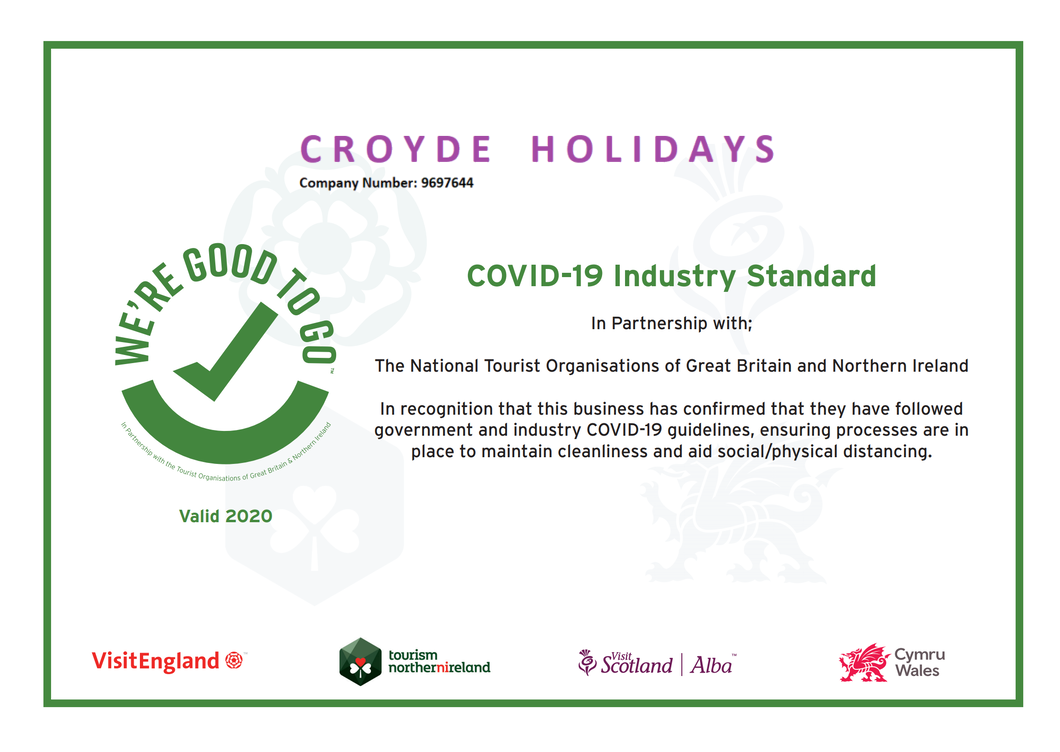 What If I Wish To Cancel My Current Booking?
You will need to check your travel insurance as to whether you would be covered for cancelling your holiday, We have made some changes to our terms and conditions to provide extra flexibility at this time, Email us at admin@croydeholidays.info to discuss the available options to you and we shall do our best to help as much as we can under the circumstances.
- Please include your booking reference number if you have one, we will be able to help you more swiftly. Thank you
It is your responsibility as a guest to keep up to date with current Government guidance/legislation and ensure that you adhere to any rules & measures in place before and during your stay with us.
Latest Revision 01/09/2021
I Wish To Place A New Booking, What Are Your Terms?
We do not cover cancellation for illness before or during your holiday, multiple household restrictions or self isolation due to track and trace - Our booking terms and conditions will apply in the event a cancellation is required, but we will work with you to find suitable solutions.
Future bookings MUST comply with Government restrictions at the time of the holiday commencement, please keep this in mind before placing any bookings for multiple families/households as you will be asked to comply if the current law does not change before your arrival date.
What is a Support Bubble?
A support bubble comprises of one household plus another single adult household (with or without children)
What If Our Family Cannot Travel Due to Illness or In Self-Isolation
If you have to cancel your holiday due to being unable to trave due to illness or self isolation our standard terms and conditions will apply, you will not be entitled to a refund. We suggest you contact your travel insurance provider depending on your level of cover. Occasionally we maybe successful in reselling the dates in which case we will be able to provide a partial refund.
Arrival and Departure Times
Our arrival and departure times provide adequate preparation time to comply with the Covid challenges our housekeeping teams face, the hospitality industry has been faced with the lack of staffing and isolation from illness, to allow for this our arrival and departure times are: - check in: from 5 PM and check out: by 9.30 AM.
In many instances your holiday maybe able to commence early, your housekeeper will be able to provide an update on the day if this is possible. Thank you for your patience and understanding.
Can You Guarantee The Property Has Been Appropriately Cleaned?
We cannot guarantee properties are free from infection, however, each of our property managers have been notified with the latest Government Protocols to help minimise risk and will continue to be maintained to a high standard.
What Facilities Are Open And Available In The Area?
Since the lock down was lifted, our Covid numbers here have increased considerably and therefore it is imperative that we act responsibly and take precautions.
North Devon and coastal areas will be extremely busy, shops and supermarkets are too. (Stock levels may also be low at this time). Please ensure if you are having shopping delivered you choose a time slot after check in time on your arrival day in order that the Housekeeping teams will not be interrupted. Tesco's, Sainsbury's, and Asda all deliver to the properties we provide.
Many local pubs and restaurants have needed to temporarily close recently due to shortages of staff and isolation. Please be patient and understanding. Booking is advised or giving them a quick call to check if they are open.
You may need to book in advance for certain local attractions. Please check the opening times and booking procedures in advance of your arrival.
Will the Swimming Pool at Clifton Court be available?
YES, From the 19th July 2021 the swimming pool will reopen on the following conditions
1. Single families or family groups, with a maximum of 8 in the building at any one time.
2. Come back later if the pool is in use
3. Please try to limit your swim to about 45 minutes, to allow others to use the pool.
4. Arrive swim ready, and shower before swimming
5. Please leave straight after your swim, and change in your flat
What Happens If I or One Of My Group Feels Unwell During My Holiday With You?
If you or a member of your group show symptoms that could be related to coronavirus, you must contact us immediately and we will advise case by case action plan suitable to your holiday.
What If I Cannot Travel Due To A Government Enforced Lockdown?
Your booking would be cancelled if you are unable to travel due to a Government enforced Lockdown and we will provide the option to change the dates or a full refund of the deposit, balance and any extras booked for the property. Please note; our booking fee is non-refundable for services already rendered.
What If The Government Issues Guidance Which Means I or My Party Do Not Wish To Travel?
If the holiday cottage is open and legally available to you as the main booker and you are not restricted from travelling, then our normal terms and conditions apply. We are happy to approach the homeowner to try and find you suitable alternative accommodation for multiple household bookings however this remains at the discretion of the homeowner and date the orginal booking was made.