We understand that the current situation with Coronavirus (Covid-19) is causing uncertainty and anxiety for our customers with a holiday booked in the coming weeks and months. The situation is changing daily; these are unprecedented times, so please bear with us as we work through what this means for everyone affected.
There may be a delay in our response due to the high volume we are experiencing as we try to prioritise those arriving soonest, Please refrain from calling during this busy period and instead email us, please include your booking reference number if you have one, we will be able to help you more swiftly. Thank you
Update: We are now permitted to re-open from 4th July 2020.
We look forward to seeing you soon.....at a distance of course !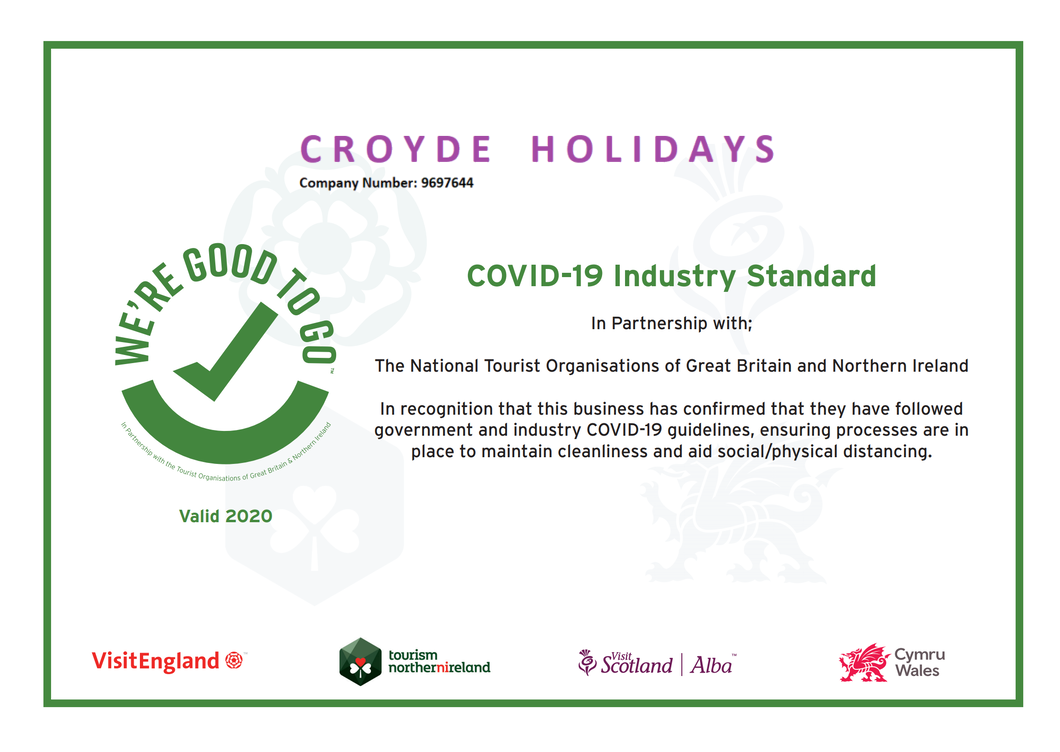 I have a booking with you and due to arrive ON OR AFTER the 4th July, what do I do?
Your holiday is now available to you and we will be in touch should the government provide any updates that would affect your holiday. Balance payments are due as normal unless we inform you otherwise.
What If I Wish To Cancel My Current Booking?
You will need to check your travel insurance as to whether you would be covered for cancelling your holiday, We have made some changes to our terms and conditions to provide extra flexibility at this time, Email us at admin@croydeholidays.info to discuss the available options to you and we shall do our best to help as much as we can under the circumstances.
- Please include your booking reference number if you have one, we will be able to help you more swiftly. Thank you
I Wish To Place A New Booking, What Are Your Terms?
Bookings made after 16/03/2020
Our deposit has been lowered for all new bookings to 25% - Balance due 6 weeks prior to arrival for new holidays taken in 2020.
We are due to re-open on the 4th July, If you plan to book a holiday with an arrival date between July and December - You are covered with our NEW FLEXI-BOOK option in the event we are forced to close the accommodation.
(We do not cover cancellation for illness before or during your holiday, multiple households or self isolation due to track and trace - Our booking terms and conditions will apply in the event a cancellation is required)
Localised lockdowns of areas our standard cancellation terms apply.
Bookings with an arrival date after January 2021 standard booking Terms and Conditions apply.
Multiple Households
More than 2 Households (or bubbles) are not currently permitted to mix inside properties, therefore if you are looking to make a booking for more than two households, you will need to consider this before booking, standard booking terms apply.
Arrival and Departure Times
Our arrival and departure times are subject to alteration to provide adequate preparation time of the properties, we know you will be fully supportive of this decision to help limit the spread of the virus. Thank you
What If Our Family Is In Isolation?
You will need to check your travel insurance as to whether this would be covered. Sorry, We are unable to make exceptions to our T&Cs in light that a family is in isolation at home.
What Happens If I or One Of My Group Feels Unwell During My Holiday With You?
If you or a member of your group show symptoms that could be related to coronavirus you must follow the standard NHS guidance found at: https://www.nhs.uk/conditions/coronavirus-covid-19/ . In addition, please contact us or your property manager and we will be able to assist you.
Can You Guarantee The Property Has Been Appropriately Cleaned?
We cannot guarantee properties are free from infection, however, each of our property managers have been notified directly with the latest Government Protocols to help minimise risk and will continue to be maintained to a high standard.
Will the Swimming Pool at Clifton Court be available?
A risk assessment has been undertaken for the swimming pool facilities and unfortunately it is deemed not safe to re-open from the 4th July 2020, while this is disappointing the pool area simply cannot conform to the Governments guidelines and as a result we have had to put our guests safety and well being first.
Latest Revision 24/06/2020