Modern & Sophisticated Farmhouse with Hot Sauna in Croyde
CH
2034
Croyde, North Devon,
Sleeps

9
Bathrooms

3
Bedrooms

4
Pets

Yes
HotTub
No
Changeover

Saturday
Description
Beautiful 1675 traditional cob farmhouse restored to the highest standard providing modern luxuries
Decorated and restored to the highest standard, Mill Farm in Croyde is located within the heart of Croyde village with an easy level 15 minute walk to the Croyde beach. This home from home offers four fantastic bedrooms, three well appointed bathrooms, two sitting rooms with
open fires,
a kitchen fully equipped to cater for big numbers and a large dining room at its heart. This property is perfect for active outdoor holidays; There is a
hot shower outside
for washing down sandy surfers and a large
hot rock sauna
to revive wet walkers and goose-bumpy golfers.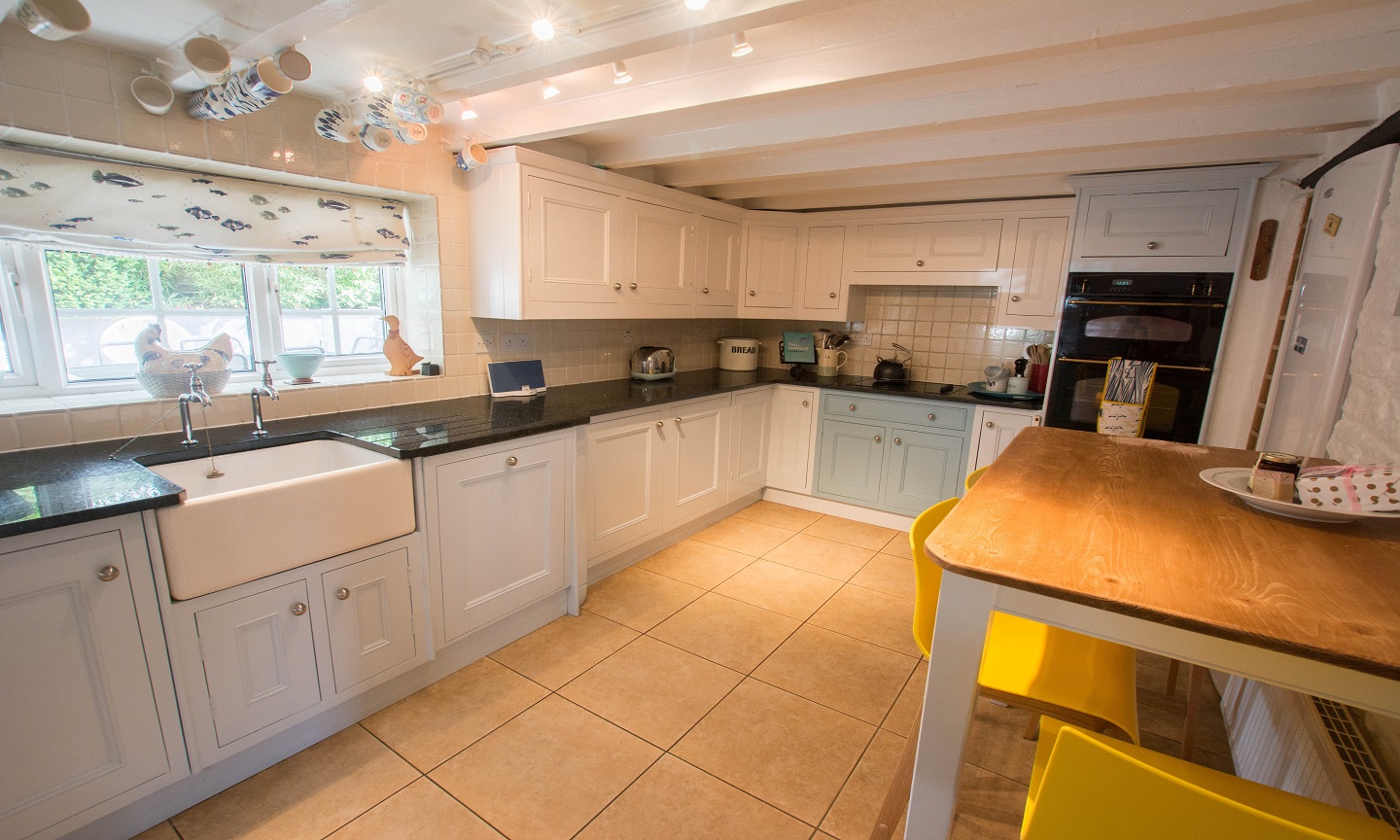 PROPERTY
Large entrance porch with tiled flooring, wooden bench seating and hanging space.
Snug with LCD Freeview TV/DVD player, driftwood coffee table, 2 seater sofa and 2 chairs. Cream stone floor and exposed original brickwork provides a cosy traditional elegance for those reflective moments.
Wet room with 2 wall mounted rain showers and pebble effect floor, adjacent is a large hot rock sauna cubicle.
Kitchen creates a traditional farmhouse style with a modern twist with a black work surface and painted cupboards of contrasting aqua. Ample of space to create a culinary feast and the appliances to match; dishwasher, halogen hob, electric oven, microwave, washer dryer, under counter fridge and free-standing fridge freezer. Nestled against the white exposed brickwork is a dining table for 4 and dresser.
Dining room has a large oval wooden table and matching chairs, a large antique dresser, wooden blanket box, 2 seater sofa and exposed brick inglenook fireplace with fairy lights.
Main lounge provides plenty of space for the whole family with 3 beautifully upholstered settees - gather round the roaring fireplace on those winters nights, enjoy the selection of board games or spend time with loved ones this room oozes "farmhouse charm" with the traditional beamed ceiling, large fireplace, piano and traditional period furniture. (NO TV)
Downstairs white cloakroom includes a wc, washbasin and wall mounted mirror.
1ST FLOOR
Master Bedroom - Double bed and a generous size room, bedside tables, built in wardrobes, neutral two seater sofa, wooden chest of drawers, dressing table and an assortment of reading books nestled within the brickwork.
Bedroom Two - Bunk bed with single trundle bed beneath, chest of drawers and views overlooking the terrace.
Bedroom Three - Double bed, bedside table, built in wardrobe and reading chair.
Bedroom Four -Twin beds with a bedside table and single built in wardrobe.
Family bathroom with a traditional red coloured roll top bath with mixer attachment, wc and white washbasin.
White bathroom suite with a bath with shower over, wc, washbasin and wall mounted circular mirror.
OUTSIDE SPACE
Metal railings secure the picturesque stream running alongside, yet the beauty can still be admired and heard! There is a courtyard terrace with 2 sun loungers and 2 patio sets, an upper lawned garden and front lawned garden. In addition a washing line, BBQ, basketball net and outside hot shower.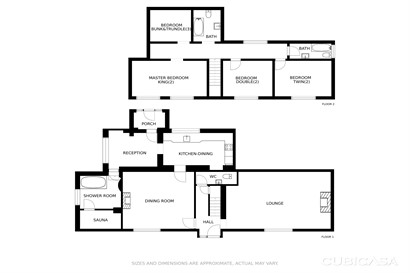 Read more about Mill Farm
Hide
Amenities
Living Space

Wi-Fi

Freeview

DVD Selection

IPod Docking Station

Rock Sauna

LCD TV

DVD Player

CD Stereo System

Board Games

Wood Burner / Fire place

Kitchen Facilities

Electric Hob & Oven

Fridge Freezer

Microwave

Washer Dryer

Dishwasher

Under Counter Fridge

Blender

Outside Space

Outside Shower

Coal BBQ

Wetsuit / Surfboard Storage

Garden Furniture

Bike Rack / Storage

Driveway Parking (3 cars)

Miscellaneous

Linen Provided

Ironing Board and Iron

Towels Provided

For Children

Highchair

Stair Gate

Travel Cot

Distances

Walk to the Beach

Walk to Places to Eat

Drive to Supermarket

Walk to Village Centre

Walk to Supermarket

Suitable For

Dog Friendly

Groups

Families

Children

Surfers

Covid-19 Safety

Contactless Check In and Check Out

2 Stage Protocol Cleaning

High Touch Surfaces Disinfected

Holiday Health Check
Rates
Holiday Enhancements
Subject to availability and if requested upon booking

Pets - £30 (per week per pet) (Max 3)
Late Departure (6pm) - £50 (ONLY available for short breaks departing on a Sunday)
Additional Booking Information
Check-in time; from 6 pm | Check-out time; 9.30am
30% of the rental cost and non-refundable booking fee is required to secure the booking with the balance due 7 weeks prior to arrival.
Availability
Booked
Provisional
Available
Map
Local Amenities Nearby
BAR
:
Croyde Pubs & Restaurants
-
45 metres
BEACH
:
Croyde Beach
-
1.2 miles
GOLF
:
Saunton Golf Club
-
2.9 miles
VILLAGE
:
Braunton
-
5.0 miles
Reviews

Henry





A charming space, full of character which has been well designed and decorated. The house is warm, welcoming and pleasant, nestled on stream on the corner of Croyd. We loved it and wouldn't hesitate to book again. Thank for having us.
Dec 2020

Lee





A lovely, charactful cottage with lots of personal touches
Aug 2020

Michelle





Great location and property, the kids and adults had a lovely break. There is lots to do in the area
Jul 2020

Lu





We loved the cottage - it was spotless on arrival
Mill Farm Croyde is a wonderful holiday cottage for winter (fire) or summer (BBQ outside). It' right across the road from the pub and a short walk to the shops, with easy access to the beach. The house is extremely well equipped and very comfortable and we'd highly recommend staying there. Thank you!
Dec 2019

Jules





Croyde Holidays are always very helpful and fast to respond.
This cottage is ideal for 8. The house is spacious. With plenty of room such that you get some of your own space.

The house is warm and cosy and perfect for surf holidays as there is space in the back garden for boards, a shower outside and a wet room and fantastic sauna inside.

We were greeted with amazing scones, cream, jam and fudge along with 2 bottles of wine.

The house was well equipped with condiments and cleaning materials so you don't have to go out and buy everything.

The heating and water are easy to use and there are 2 lovely lights burners with ample wood provided.

We thought this cottage was fantastic and would love to return if we plan a future trip to Devon.

Highly recommended.
Nov 2019

Gemma





We had a fabulous time. And the contact I had with you guys was brilliant. So helpful.
This was a lovely house to stay at. The location was incredible, at the end of a beautiful village and next to a fabulous pub! The outside space was lovely , however in the rain it wasn't super practical especially with a toddler. Lots of steps that were quite slippy. But the stream running past was lovely. The house was great, a few minor things, only three of us could watch tv at any one time as it's in the small snug. There's a huge lounge, but I guess that's for sitting in and reading or playing games etc. This just didn't quite suit our cosy evenings. Many lightbulbs were out all over the property. And the bed and pillows in the master bedroom left a lot to be desired. And left me unable to move for a week ! However might suit other people! All in all though. It was a wonderful stay and brilliant location.
Sep 2019

Pam





Online Review ★ ★ ★ ★ ★
Easy to book and good communication with property manager. Great family house. I did have to sweep the outside space and we expected some shower gel in the shower rooms. However the house was perfect for our family.
Sep 2019

TripAdvisor Review





Tripadvisor 4 STAR Review - " Pet Friendly large family house"
Left on Sep 6, 2019 for a stay in Dec 2018
We stayed at Mill Farm twice, on both occasions over the New Year period. Great location, 1 min walk away from The Manor pub, close to all other amenities in Croyde. The house was spacious and catered well for two families of four. Oozing with character, we really enjoyed our stay. The main bathroom could do with a shower and the second bathroom could do with an upgrade but it didn't deter us coming back a second time.
Sep 2019

Allison Standley





A wonderful holiday.
A large and gorgeous cottage, very well equipped and with very comfy beds. Close to a lovely pub which serves excellent food. Absolutely stunning location. A wonderful holiday.
Jun 2019

Nick Austin





Online Review
This is the 2nd time we have stayed at Mill Farm and we all love the house. The owner has thought of everything to ensure everyone's stay is enjoyable.
Jun 2019

Lorna





A perfect stay!
Excellent stay. Beautiful property...clean and fabulous... helpful tips everywhere on how to use things and what's in cupboards...
Just lovely
Mar 2019






Delightful house
So fully stocked we were able to complete a baking project for school. Felt like a home rather than a holiday let thank you for letting us stay
Nov 2018

TripAdvisor Review





Tripadvisor 5 STAR Review - " Beautiful pet friendly house."
Great place to make memories, plenty of room in this spacious property and the sauna was a bonus, the piano was a big hit too, dog friendly beaches so everyone was happy, locals are very helpful, will definately be back.
Oct 2018

Janice





Very relaxing holiday property perfectly positioned Lovely outside space
Jul 2018

Jane Stuart Brown





This house was perfect for our celebration.
It was peaceful and ideally located with the village,meaning that once there.....we had no need to use the cars,which was wonderful.....we did the most beautiful walk,from the farm to Putsborough and then back along Baggy Point and then home to Croyde. The beds were very comfortable and the accommodation just flowed.We are hoping to make a return trip later in the year.......can't wait!
Feb 2018

Gallimore





Perfect cottage !
We had a lovely week in Croyde with our family and a 4 week old baby. Cottage was perfect and well equipped for a large gathering. Would definitely be recommending this cottage to our friends.
Nov 2017

S. Kang





A beautiful welcoming family home where we were able to make happy memories together.
The agents were very helpful and knowledgeable. Had good local knowledge too eg re surfing lessons for our children. The cottage was well equipped with everything we needed and the welcome basket was much appreciated after a long drive.
Sep 2017

Alan W





Mill Farm cottage is a lovely old cottage in a beautiful village near to Croyde beach.
We had great family holiday and will return in the future. On arrival we found a lovely welcome pack which was greatly appreciated and the cottage did exceed our expectations for a very old building.
Aug 2017






Situation, setting and ambience of the cottage is superb.
Perfectly situated for a stroll to the beach and village as we requested.Beautifully presented old world charm internally but with all the modcons needed for a winter break.
Dec 2016

Rachel





Such a shame we're packing up tomorrow!!
Our friends arrived first and realised the property was ready and it was cosy and warm so thank you for that, it was much appreciated. This home is lovely and cosy and we are enjoying a much needed and relaxing break. we have all thoroughly enjoyed our stay and have been extremely lucky that the weather has not rained on us once!
Nov 2016

LeedsBear





TRIPADVISOR REVIEW; Wow - just such a wonderful holiday home
We were lucky enough to stay here at the beginning of June this year for a week. This is not your typical sparsely furnished and equipped holiday rental, but the feeling of a well loved and very well furnished and equipped family holiday home. It has absolutely everything you would need for an enjoyable stay. Three good sized double/twin rooms and a lovely room with a bunk bed for the kids. The house has a couple of wood burning stoves which are nice to come back to in the evening and further benefits from a hot outside shower - perfect for rinsing all the sand off having been on the beach all day, a sauna and a large trampoline outside for the kids to enjoy. It also has a BBQ and large table and chairs outside. Location wise it is 3-5 minute walk away from the centre of the village and a good 20-30 minute walk from the beach, however we enjoyed the quieter location that the house offers. The house has a small stream running through it which also entertained the kids and there was sufficient off street parking for 3 cars on the driveway. I cannot recommend this holiday home enough and we are contemplating booking again for next year we enjoyed it that much.
Aug 2016

Phil Craig





We just had the most wonderful family week in Mill Farm.
It's a truly special place. And we were very impressed with the quick response of the local manager when a couple of tiny issues came up. Great company and a great, great town
Jul 2016

Conrad Witcomb





The cottage was outstanding, we all fell in love with it.
The eclectic and tasteful furnishings gave a very relaxing atmosphere, that it was a pleasure to holiday in. Each and everyone of us enjoyed our stay emencely and would be happy to go again. I've been going to croyde for 34 years and up to now always stayed at Ruda, but can honestly say, this was better by far. To anyone thinking of going to Croyde, you can't ask for better than staying at the Mill farm cottage, it's superb.
Jun 2016

Lucy Fletcher





Had a fantastic stay at Mill Farm and cannot recommend it highly enough
It has been beautifully decorated with a lovely feel to it, the garden is fab , the children loved the trampoline and seeing the ducks in the stream. The location of the property is perfect only a 5 minute stroll into Croyde village but it feels like you are milea away as its so peaceful, I would most definitely stay here again as I didnt want to leave.
May 2016

Maxine Epps





This was one of the best cottages we have stayed in!
it was clean, there was plenty of towels, soap, washing up liquid, dishwasher tablets also tea & coffee. Even a bottle of wine. Logs were provided which was brilliant. Couldn't of asked for more. Lovely cottage, loads of crockery, cutlery, utensils, High chair, travel cot. Very clean, plenty of towels. There is a pub which was brilliant they did lovely food & bt sports which went down well with the men. Can't fault this cottage, obviously it would be much busier in Croyde in the summer but it was lovely an quiet whilst we were staying in Croyde. Cant think of any improvements!
Feb 2016

Nicola Yates





Perfectly situated and a lovely cottage to spoil yourselves in, a real treat!
We had a wonderful time celebrating my husbands 50th birthday with our family. The cottage was sumptuous with everything we needed and more, the sauna being an added bonus after a blustery day out. Would highly recommend and would love to stay again, but for longer!
Dec 2015






Tripadvisor Review: PERFECT!
Every part of this house had the added attention to detail. It was spotless, brilliantly located an plenty of room for everyone. You will not be disappointed if you choose to stay here, will definitely be back!
Jul 2015

Clare Fyfe





Excellent accommodation in a loved and well cared for house.
Beautiful house; felt as if it had been lent to us by a friend. Well equipped and we hope you continue to rent it out - would love to stay again. Lovely village - everyone so friendly and helpful - we hope to return. Croyde Holidays: excellent service, Thank you!
Jul 2015