Home >
Oyster Cottage, Braunton
Comfortable and Homely Villa Styled Cottage
CH
2004
Braunton, North Devon,
Sleeps

6
Bathrooms

2
Bedrooms

3
Pets

Yes
HotTub
No
Changeover

Saturday
Description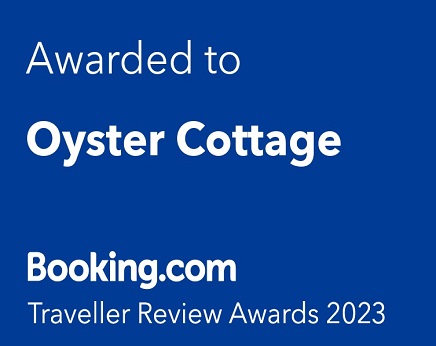 Contemporary terraced cottage lovingly furnished with a Villa style feeling, Oysters is perfectly situated for touring North Devon, and provides a great value base for couples and families alike. Set in a
peaceful area tucked away near the heart of Braunton
, Oysters is within easy reach of the village just a short walk of five minutes, and a regular bus service with direct links to Saunton beach, Croyde, Barnstaple and Woolacombe for plenty of beach time opportunities.
Inside Oysters you'll find a
comfortable and homely villa styled living area
perfect for relaxing after a day exploring the delights of the North Devon Coast. You won't have a problem keeping everyone entertained; you can curl up on the sofa and watch a good film and Wi-Fi means you can keep in touch with friends and family to share your holiday snaps. The master bedroom benefits from a private En-suite bathroom and there's even a rear courtyard to relax with a glass of something chilled at the end of a day exploring the area with the family dog. (small charge applies)
PROPERTY
Tiled entrance hall, the entire downstairs benefits from underfloor heating and a ground floor WC.
Lounge with 2 large chcolate leather sofas, carved wooden coffee table, a large storage unit, a 37 inch LCD TV with freeview for your entertainment, Netflix and Prime (subject to guest subscription) and patio French doors leading out into the rear private garden terrace.

Kitchen / diner with a dining table seating 6 and a booster chair is available for little ones. Built in gas hob, electric oven, microwave, fridge freezer, washing machine and dishwasher.
1ST FLOOR
Master Bedroom - King-size wooden sleigh bed, fitted wardrobe, bed side tables and a private en-suite shower room, wc and washbasin.
Bedroom Two - Twin beds with a chest of drawers, hanging rail and bedside table.
Bedroom Three - Shorty bunk beds ideal for children with a chest of drawers and a mirror.
Family bathroom includes; a bath with shower over, WC, washbasin, mirror and shaver point.
OUTSIDE SPACE
Pretty sunny south facing courtyard garden with table and chairs for 6 people. Surrounded by colourful plants and vines making it a lovely setting for an evening BBQ at the end of the day. The unique decked "lovers" seating area is a lovely place to unwind.
Read more about Oyster Cottage
Hide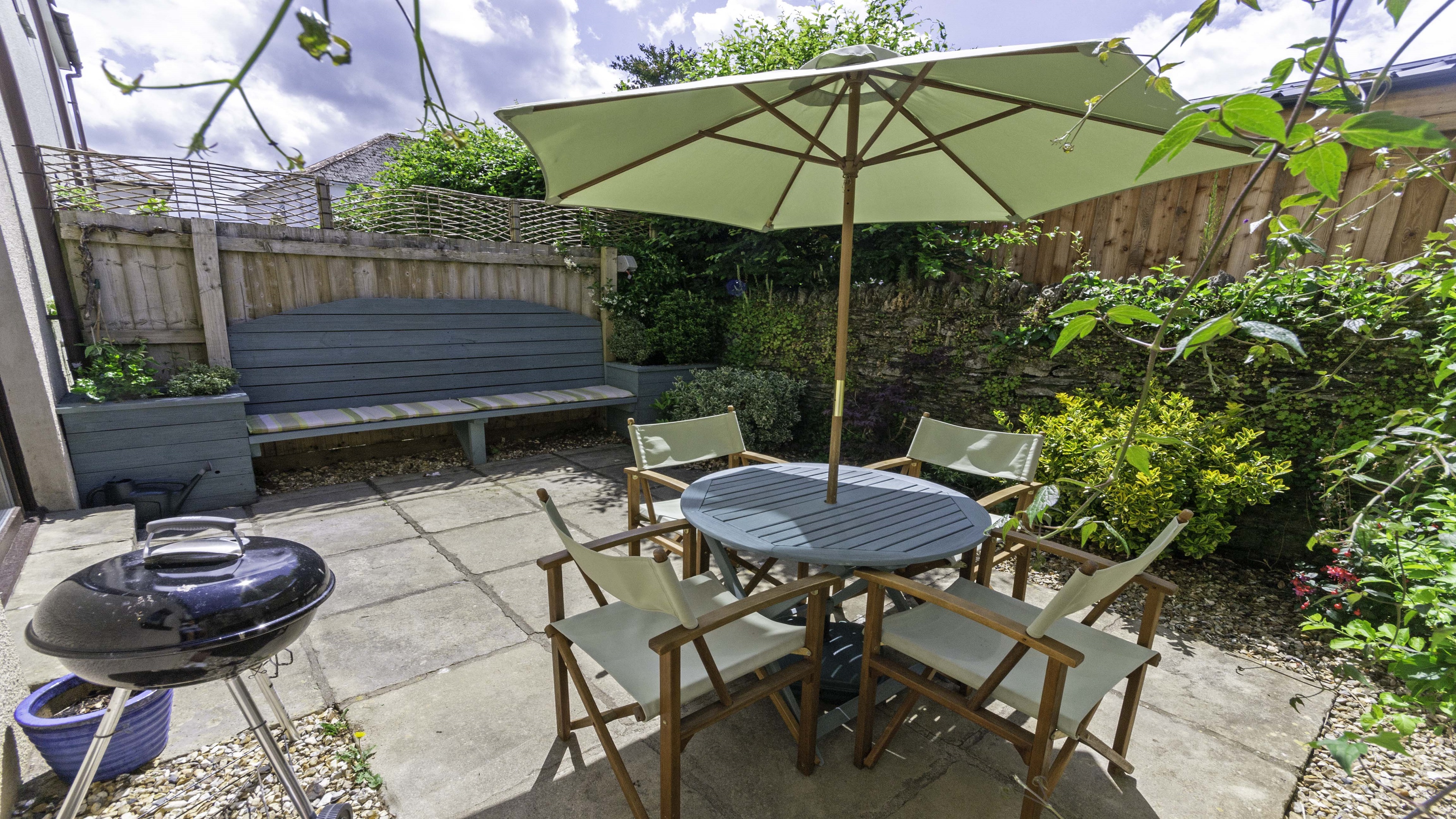 Amenities
Living Space

Wi-Fi

Freeview

CD Stereo System

Underfloor Heating

Large LCD TV

Netflix Enabled

Board Games

Kitchen Facilities

Gas Hob & Oven

Fridge Freezer

Washing Machine

Dishwasher

Microwave

Cooking & Baking Essentials

Outside Space

Garden Furniture

Parking Space (1 car) + Visitor Space

Coal BBQ

Miscellaneous

Linen Provided

Ironing Board and Iron

Clothes Airer

Ensuite Bathroom

Hair Dryer

For Children

Highchair

Stair Gate

Booster Toddler Chair

Travel Cot

Children's Toy Box

Dog Friendly

2

Distances

< 5 min Drive to Beach

Walk to Places to Eat

Walk to Village Centre

Walk to Supermarket
Rates
Holiday Enhancements 
Subject to availability and if requested upon booking

Pets - £40 (per week per pet) (Max 2)
Late Departure (6pm) - £60 (For out of season breaks ending on a Sunday & subject to availability)

Travel Cot - Free of charge + 1 cot sheet
Stair Gate -  Free of charge

Guest Bed - £40 (Linen provided)
Additional Booking Information
Christmas - Property does NOT provide decorations, sorry!
Check-in time; from 5 pm | Check-out time; 9.30am
30% of the rental cost and non-refundable booking fee is required to secure the booking with the balance due 7 weeks prior to arrival.
Availability
Unavailable
Changeover
Short Breaks
Discount
Map
Local Amenities Nearby
BAR
:
Braunton Pubs & Restaurants
-
60 metres
ENTERTAINMENT
:
Tarka Trail
-
320 metres
BEACH
:
Saunton
-
2.0 miles
GOLF
:
Saunton Golf Club
-
2.1 miles
Reviews

Robert





Great base for family coastal holiday
Central village location, yet quiet and secluded; very clean and well equipped
Aug 2023

Daly





A charming little cottage in a good central Braunton location
A neat and tidy little cottage, in a good central Braunton location. Suitable for local walking and Saunton Sands surfing etc Well equipped kitchen and pleasant garden/ patio area
Jun 2023

Andrew





Nice house in convenient location for pubs, restaurants, shops and beach.
Jun 2022






Spotlessly clean accommodation in an excellent location for local facilities in Braunton. The double bed is very comfy but the twin beds are incredibly hard and uncomfortable (we did not use the bunkbeds) The kitchen is well equipped and we had everything we needed to cook and clean. Excellent idea to have the contact details of the friendly housekeeper, although we did not need to contact her as everything was in good working order.
Mar 2022

Online Review





The house was clean (apart from blinds) and tidy, location was good but parking was a problem as we had two cars (only one allocated parking space and two visitors parking spaces for 18 properties). Although dogs are allowed there is no grass within 200 yards of the property.
Dec 2021

Tony Head





Stayed Before....
Centrally located with own parking space. Clean and tidy.
Sep 2021

Online Review





Well located house, close to takeaways and a pub! Also can easily walk to newsagents and local shops (Cawthornes which sells most stuff, and a butchers are just a few mins walk away). The house had everything we needed, lots of crockery and cooking pots and utensils. The bunk bed bedroom is quite small but as we were out and about most of the time this didn't matter but it might be better suited to younger kids. Saunton beach is only a few mins drive away so it was perfect for us and kids to spend time body boarding and surfing. Nice private garden. Great communications from the housekeeper at the holiday company who manage the house when we had queries Emma was quick to respond and was super helpful. Would stay here again and would recommend it.
Aug 2021

Carolyn Leigh





It was spotless when we arrived, couldn't get better
Lovely clean, well equipped house which was perfect for our family of 6. Good proximity to the town and beach es. Really enjoyed our stay!
Jul 2021

Fiona Webb





Repeat Guest
This is an excellent property for value for money location and cleanliness - Emma is a fantastic property manager!
Jul 2021

Laura





Great location in town, close to many beaches, particularly Saunton Sands which is dog friendly and stretches for miles when tide is out. Great for surfing and body boarding and not built up. From the town you can cycle the Tarka Trail, there are also a number of dog friendly pubs with gardens and plenty of shops.
Jun 2021

Ruth





High standards of cleaning
A lovely house, very good location near to shops and restaurants in Braunton. Very clean on arrival and house very well equipped.
Jun 2021

Jill





It was all very good.
Oyster Cottage is very warm and comfortable, in a good location, and ideal for dogs, with a fully enclosed small garden and places to walk nearby.
Oct 2020

Ali





Excellent covid 19 procedures in place.
Excellent property, very well maintained, clean and bright. Brilliant idea to have a property/liasion manager allocated to the property for any queries that may arise during your stay. Located 5 minutes from the dog friendly Saunton sands beach. Perfect location.
Sep 2020






Thank you to Emma, we have had a great stay in the cottage, thanks for being on hand.
Think you have been the best holiday rental company ive dealt with. Take care.
Sep 2020

Mary





Online Review
Oyster cottage is very well equipped and is perfect for a family . We stayed with friends and found the rooms to be very comfortable and everything was sparkling clean. A good location a short drive from the beach. Recommended.
Mar 2020






Enjoy this super clean cottage with all mod cons for a relaxed stay
We were totally happy with the cottage from the moment we entered and found no problems at all
Oct 2019

Online Review





Online Review ★ ★ ★ ★ ★
Very clean , very well equipped we wanted for nothing, very comfortable double bed, shower nice and hot and a good spray. Cooking facilities all there, internet connection excellent. Over all a very good base to tour North Devon with it's excellent beaches. Would go back.
Sep 2019

Online Review





Wish we had stayed for longer!!
It was such a lovely location. Extremely clean property, with really nice touches for a family with a toddler. I did not expect a stair gate or a change mat or a potty or a sleep suit (in addition to the advertised high chair and travel cot) to be available so that was really a nice touch. We'd happily stay there again.
Only thing I would perhaps have preferred was a later check-out time.
Sep 2019

Online Review





Online Review
Spotlessly clean and very well equipped with everything you could need. The house is well situated to easily get around the area of North Devon
Jul 2019

Pawel





Online Review
Oysters was a great place to stay for me an family visiting me. Make as fell as at home, clean, tidy. One but...the weather wasn't great while we stay. Would recommend this place.
Sep 2018

Online review





Delightful and located in the centre of Braunton
We had a great stay in this lovely cottage which had everything we needed. The location is perfect for the stunning beaches at Saunton and Woolacombe.
Sep 2018

Caroline





Fantastic holiday in a great cottage
Excellent location to braunton, gorgeous cottage and fully equipped. We had a lovely stay.
Aug 2018






Tripadvisor 5 STAR Review - " Well situated for local shops and Saunton sands."
Great 3 bed cottage in the centre of Braunton. Lovely village. Shops , restaurants and local chippy close by. Just around the corner from the Tarka trail so lots of places to walk the dog. Saunton sands and Crowe point a short drive away. It's by far the cleanest house I have ever stayed in. Everything you need in the house to make it a great holiday.
Jul 2018

Jo





PERFECT !!!
Well situated in the village. Great walks. Not far to Saunton sands and Crow point. Comfy and well equipped. Cleanliness Spotless, a credit to Emma the housekeeper.
Jul 2018

Roger





Very clean, quiet, convenient for the town, well equipped, comfortable chairs and beds, nice private rear garden, spacious for a cottage.
Sep 2022

Tori Redding





Our stay at Oysters was lovely and quiet.
The terrace is a perfect sun-trap which we made great use of. Kitchen was well stocked with equipment.
May 2018






Great place to stay
Straight forward booking on the website & timely reminder emails to pay & arrival information. Close to all the beaches & Tarka trail. House is quiet and very warm, enjoyed the pubs, restaurants & take aways in Braunton. Children's play park 5 minutes away.
Apr 2018

Jackie





Was exceptionally clean & very well equipped.
Lovely clean & very welcoming cottage. Very well equipped with all the comforts of home. Excellent location to all beaches & attractions. Braunton village has some lovely shops & a good variety of restaurants & takeaways.
Apr 2018






The cottage was well up to our expectations and is very well equipped.
The courtyard garden was a real bonus , as it meant that our 18 month old grandson could play outside without fear of him escaping !! Although we had said that we were taking a dog , in the end we had made other arrangements , but it was a nice gesture that you had provided some doggy treats . All in all we were impressed with the cottage being so well equipped , and the high standard .
Oct 2017

Annette





Great accommodation, very good size and comfortable
Booking agent was very quick to reply, and very helpful. Lovely cottage, in a great location, easy walk to the town and easy driving distance to the beaches. Spotlessly clean, and we found everything to be in great order and we had everything we needed. We loved the place and would definitely recommend.
Sep 2017






Cottage was spotless and everything worked as it should.
Overall the cottage was great. It was clean and gave us everything we needed for our week long stay. Great location too.
Jul 2017






Would highly recommend Oyster Cottage.
The cottage was clean and welcoming. The location was great. The facilities at the cottage were very good and we had no issues throughout our stay.
Jan 2017

Mr Bishop





A very pleasant well equipped cottage
The house was very clean on our arrival, a very pleasant surprise. We were very pleased with how well appointed the house was with everything you could wish for and more. Its location is also brilliant for visiting the area and Braunton has all you need for supplies. local for the shops and close to several beaches. A great find.
Sep 2016

Sandra Wilkinson





We enjoyed our stay in Braunton very much.
The cottage is well suited for the overall area and tucked away in a quiet spot. Cleanliness unbelievably wonderful.
May 2016

Jill Redmond





Lovely cottage
Great to be able to walk into the village which was really nice. Squires fish and chips were excellent!! Booking provided an efficient service and question answered promptly, Property was very clean on arrival, Our family (and dog!) really enjoyed our stay with enough room for all of us (6)
Apr 2016

Melanie Evans





Super Standard !
Great location , able to walk to local restaurants and pubs. Near to tarka trail and beaches. A clean, light, spacious cottage with tasteful decor and modern appliances. Felt very comfortable.
Oct 2015

Louise





Tripadvisor Review: We thoroughly enjoyed our stay at Oysters.
The house is just off the high street, with ample parking (although the spaces are a little narrow) but was quiet and relaxing. Oysters was very clean, comfortable and well equipped. The Wi-Fi worked well - and was very useful for my 3 children! The house was very warm (even without heating on) and we really enjoyed our stay here. It is a perfect location for travelling to Croyde, Putsborough or Combe Martin. We also loved exploring Braunton Burrows and Crows Point. I would love to stay at Oysters again.
Jun 2015

Mr.Stables





Lovely house well equipped and clean. Nice touches like hand wash and hand towels in all the bathrooms. Have stayed in the area a few times and love it! Lovely walks and beaches for Lexie ! Always at least one visit to Squires.
Sep 2014

S. Goldsmith





Nice house, comfy, nice beach at Putsborough, Woolacombe and Croyde. Walking and beach at Crow Point along the toll road, had nice weather. Lovely walk along trails, nice village, recommend the sandwich shop.
Sep 2014

Mr Webb





Great holiday, fantastic week meant wonderful long days at Saunton Sands Beach. Good to stay at a cottage with excellent wifi to provide internet access to all our devices. Our dog "Hettie" has been happy here, so thanks for allowing her to stay, we hope to return next year.
Jul 2014

Yvonne Allen





Fantastic cottage ! Deceptively spacious, well equipped and very comfortable. Perfect base for all the beaches, we loved Saunton beach, surfed there every day. Weather was scorchio every day! Definitely want to return to Braunton and Oyster Cottage, Thank you
Jan 2015

Richardson





We've had a lovely time here. Expected awful weather after the recent storms, however we've had a couple of lovely days. Beach at Saunton Sands lovely - my husband and children even had a surfing lesson! Can recommend local takeaways and restaurants too, handy location for a winter break!
Feb 2014

TripAdvisor review





Oyster Cottage is lovely, clean, modern, beautifully furnished (the sleigh bed is soo comfortable) and all kitchen equipment provided. I couldn't fault it. If you visit you tube and search for Oyster Cottage, Braunton there is a video showing it. The village is a stones throw away with a pub close by and its an easy walk away. The letting agents Croyde Holidays were a pleasure to deal with. We would like to return next year. My only reservation is Oyster Cottage becoming too popular and being unable to book!!
Sep 2013

Thompson





A great cottage very well equipped and lovely little garden too. Lovely weather - not too hot, not too cold ! A trip to Broomhill sculpture park, North of Barnstaple is definitely worth a visit this time of year and Croyde beach is great whatever the weather, even to watch the surfers! Thanks
Sep 2013

TripAdvisor review





We are a family of 5 plus small dog and have just spent a week at Oysters. Beautifully presented house, by far the cleaniest house we have ever stayed in - a credit to the owner. The garden is wonderful, very clean and well set out, a real sun trap. Could be used throughout the day due to it's south facing garden. I thoroughly enjoyed watering the plants! Having two televisions was a bonus when sharing with two teenagers. The bed in the master bedroom was very comfortable. However this cannot be said of the single beds, you can feel the springs and they all need the mattresses replacing. The property is just around the corner from Braunton High Sreet which has a fantastic selection of shops and has a proper village feel. Very quiet property, very highly recommend it to anyone.
Jun 2013
Management Reply: (Single mattresses replaced by the owners immediately after this review)