Let Your Holiday Home With Croyde Holidays
Why holiday owners are choosing us:
Summary:
We offer a very competitive low commission rate.

We provide healthy booking levels for a healthy return.

We do not charge registration fees, renewal fees, photography or fees for inclusion on our website.

We invest in additional promotional material free of charge.

We have strong customer loyalty in brand and marketing promotions.

We are always on hand to offer assistance and expertise.
Croyde Holidays delivers a quality cost effective holiday rental management service, we promise to make you feel relaxed, calm and reassured with our extensive knowledge, expertise and professional service. We take the worry out of letting your holiday cottage in North Devon and can maximise your potential income to help protect your investment.
Our impressive holiday letting success comes from providing a strong rental income all year, with our outstanding commitment we are proud to achieve a minimum of 30+ bookings on our cottages by offering a fast response time and effective marketing techniques.
Our primary focus is having a small manageable portfolio to provide a friendly working relationship that offers reassurance your property is being promoted to the very best of its ability.
Covid-19 Approach
During the Covid-19 outbreak many holiday letting companies have been put under the spotlight in how they deal with a crisis situation, bad press travels and sadly it has given 'us' holiday companies a bad reputation as a result.
Croyde Holidays made the decision very early to approach the pandemic situation with open communication and care to our customers, owners and property service providers. We have pride in our personal touch over the years and felt this situation should be no different, every conversation has been handled with the attention and high customer service we strive to achieve. We hope this approach will help us to continue with our business relations far into the future.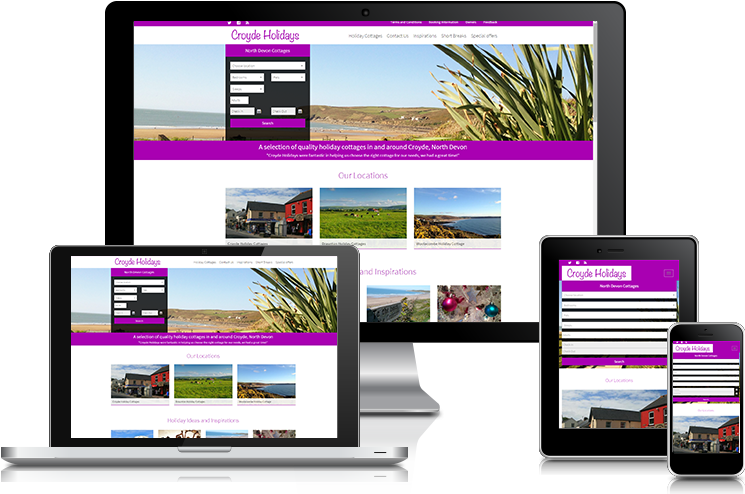 Safe Hands
Our owners have high levels of confidence in our booking abilities; We deal with enquiries quickly, efficiently, outside office hours and offer a high degree of local knowledge in our key locations. We offer freedom of choice and flexibility with our management service.
Effective & Free Marketing
We are proud to use a market leading website which is well optimised and updated regularly, In addition to the extra paid advertisement that we invest in which when working together attracts thousands of independent website viewers every week looking for your holiday cottage in North Devon.
Advertising and successful promotion of a holiday cottage takes both time and a huge investment. We do not charge any registration fees, renewal fees, or fees for photography or inclusion on our website. In addition, we have identified various websites which generate extra promotion of your holiday home, these sites can cost in excess of £1,500 a year per property, however we list and manage on sites such as HomeAway Holiday Rentals / Holiday Lettings / TripAdvisor / Airbnb completely free of charge.
Email Marketing & Social Media
Marketing campaigns using our database of contacts help to promote new properties, special events and promote special offers. These drive a large amount of traffic to our site.
We have a strong social media presence with Facebook and Twitter interaction showcasing your property to thousands. Our brand and reputation broadens the market audience and viewing potential to guests looking to book a cottage just like yours.
Repeat Custom
We have a high number of repeat guests, word-of-mouth recommendations and extended generations of families that return to use our company for every holiday in North Devon.
Reviews & Improvements
Our customers expect accurate information, we work in close connection with our owners, property managers and customers to help us achieve this. Positive feedback and glowing reviews is what we aim to do !
We offer advice on booking trends, improvements and viewing rates which is essential when marketing your holiday home effectively. The market and climate is forever changing and we work together as a team to update you and adapt rather than finding excuses.
Income Generation
Home owners trust us to accurately represent their properties to help minimise problems and market enthusiastically, professionally and effectively to maximise income opportunity.
We do not charge a sign up fee or a yearly fee, We aim to be different to other agencies and provide owners with high booking results and we guarantee the lowest rate of commission for North Devon, providing a healthy income for our owners.
Contact Us

No matter what stage with your cottage, we're happy to help.
Our experienced team are able to provide a full assessment of your home's potential, including suggestions for property improvements and letting guidance. We're in this for the long term, and hope you will be too.
If you'd like to discuss your holiday properties earning potential, call us on 078363 19810
Email us: admin@croydeholidays.info
Or complete the form below and we will be in contact to discuss your letting potential and send an owners information pack.
What our owners say;
'We were talking about your services the other day (favourably I must add!) I have had a couple of conversations lately with people whose properties you now handle who are very happy and impressed with the level of bookings and service you deliver. We are too. Just thought I'd let you know.'
'Can't recommend Rachel and her team highly enough.'
'Thank you very much for dealing with this difficult issue, your professional approach is very commendable and shows Croyde Holidays is indeed the best letting agency around.'
'Very happy to proceed with you next year, and a good idea to get the ball rolling on future dates. You have massively improved the occupancy rates compared to our previous agent and I'm truly surprised by how well 'X property' performs.'
'W

e are more than happy for you to continue as our letting agent, your hard work and time spent looking after us is very appreciated.'