Take a Look at our cottages available in Croyde, a popular holiday destination choice for families and surfers for its award winning naturally sheltered beach and surfing opportunities.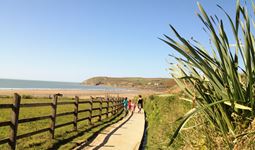 Take a Look at our cottages available in Braunton, Rich in history and ideal for exploring the North Devon coastline and perfectly positioned between the best beaches of the golden coast.
CroydeHolidays are not a typical '9 to 5' business. We recognise that planning a holiday doesn't always fit within normal office hours - As a result, we aim to be as contactable as possible.
Unfortunately, due to the nature of the business, we're not always to be found at our desks. But if you do need to speak to us and we are unavailable, please leave us a message and we will get back to you as soon as we can.

By Telephone - 07836319810
By Contact form below
By Email - Admin@croydeholidays.info
By Property - Send us an enquiry for your chosen property on the property page.
How are we doing? Give us some feedback
Stayed with us before? How do you rate us or the holiday property you stayed in?
Take a few minutes to complete our feedback form, This would be greatly recieved in order for us to continue to improve on our services for future guests.
Thank you
Croyde holidays are an independent holiday letting agency offering a varied choice of North Devon self catering accommodation to rent in the local area such as; Braunton, Croyde bay, Saunton sands, Georgeham, Putsborough and Woolacombe bay to offer one of the best holidays in Croyde and one to remember!

If you would like us to advertise your self catering holiday home and see how Croyde Holidays create a fresh new approach to holiday letting. Give us a call or view our Property Owners section

Our Locations
Croyde Holidays are proud to represent a selection of cottages in North Devon carefully chosen to highlight the most desired location in the United Kingdom. Holidays in Croyde have become a popular choice of family holiday for various reasons; The rolling green hills of the Devon countryside, picturesque fishing harbours, quaint traditionally thatched cottages or the spectacular selection of award winning sandy beaches. Croyde Holidays constantly strive to provide the best service for customers wishing to book holidays in Croyde and all of our cottages are available to book online, if you have any queries our team will be happy to help.
Start searching by using the search facility to show which of our cottages in North Devon are available for specific dates or browse our selection of self catering accommodation using the locations below.