Home >
CloudBreak, Braunton
A Cottage Ideally Situated for Explorers of North Devon
CH
2045
Wrafton, North Devon,
Sleeps

8
Bathrooms

2
Bedrooms

4
Pets

Yes
HotTub
Yes
Changeover

Friday
Description
Spacious period cottage perfect for explorers furnished to a very high tasteful standard with optional hot tub*.
This family friendly four bedroom semi detached house is situated in Wrafton, Braunton. Cloudbreak internally is spacious and well equipped offering all the
creature comforts of a home away from home.
The tasteful decoration complete with a stylish kitchen, leather sofas and a wood-burner make this house the perfect, comfortable homely base for exploring the nearby attractions and beaches North Devon has to offer.
Externally, the property benefits from an enclosed private patio and being perfectly situated a short distance from the award winning Williams arms pub and Tarka Trail ideal for cycling with the family on the Taw Estuary or a walk with your four legged friend. If you are bringing infants there is a playground and licensed soft play just a short walk away, or for older ones Braunton Pump track for bikes and scooters.
Fancy making your holiday that extra bit special? Cloudbreak can now be booked with a Lazy Spa Jacuzzi Hot Tub Hire Option from £140
*Dogs stay FREE January to Easter & November.
PROPERTY
Bright and modern kitchen with dishwasher, built in oven, gas hob, free-standing tall fridge/freezer, microwave and fully stocked with crockery, utensils and glassware. Breakfast table seating 4, full length mirror and wall mounted LCD TV.
Spacious dining room with a large wooden dining table and leather padded seats for 8, traditionally tiled fire surround with alcove and glass shelving.
Sophisticated and rustic themed lounge with 3 large comfortable leather sofas, wood burner, coffee table, LCD TV with digibox Google Chromecast, Netflix (subject to guest subscription), DVD player, Playstation with a selection of games, DVDs and Board games.
Utility room with storage space. Hallway with desk, computer chair and hanging hooks for coats.
White bathroom suite with shower, W. C, washbasin and wall mounted mirror.
1ST FLOOR
Master bedroom - Kingsize bed, Matching wooden furniture; wardrobe, chest of drawers, 2 bedside tables, mirror and cozy tub chair.
Bedroom Two - Twin beds (superking on request) white wardrobe, chest of drawers with free standing mirror, 2 bedside tables and a white tub chair.
Bedroom Three - Double bed, wooden bedside tables, matching chest of drawers and hanging hooks.
Bedroom Four - Bunk bed, wardrobe, underdraw storage and a box bench seating area.
Family bathroom; Bath, electric power shower, mixer tap attachment, WC, washbasin, storage and a mounted mirror.
OUTSIDE SPACE
South facing walled garden space accessed via the kitchen to the rear of the property. The garden is fully enclosed and a riot of colour in the summer with well established shrubs making it a lovely private spot to soak up the sun on the patio. Patio table and chairs for 6, bench, washing line and Weber charcoal barbecue.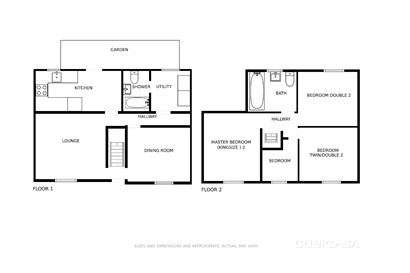 Read more about CloudBreak
Hide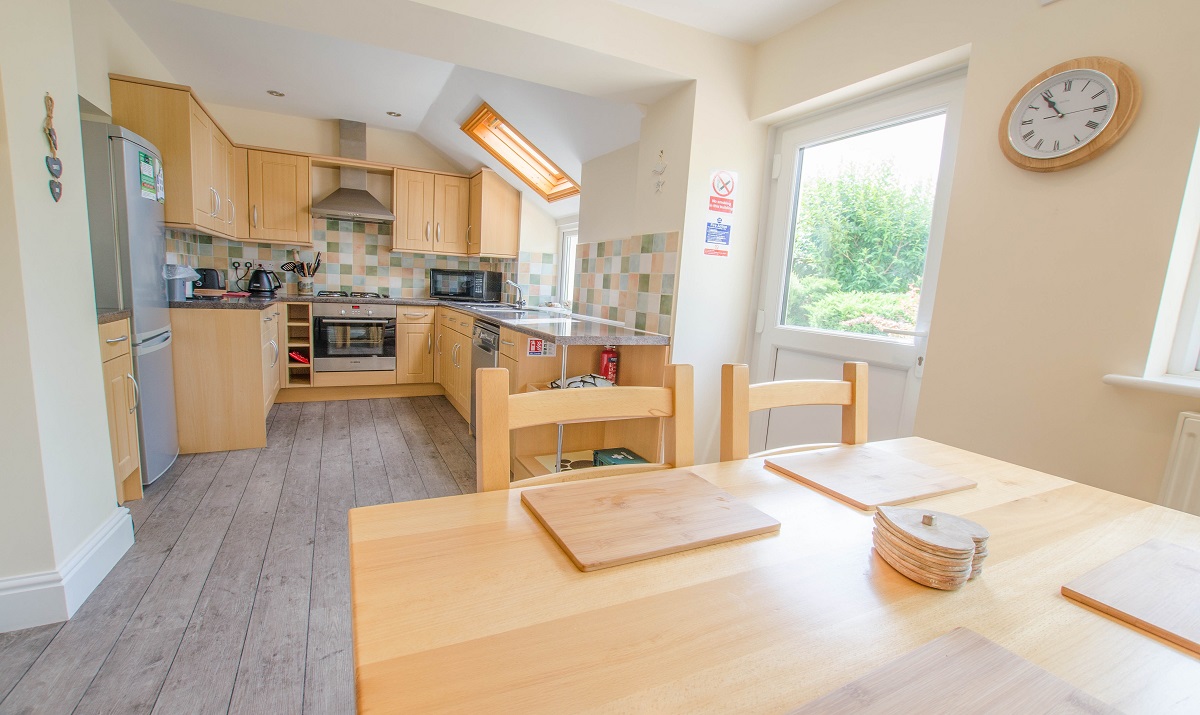 Amenities
Living Space

Wi-Fi

Freeview

DVD Selection

Games Console

Wood Burner / Fire place

LCD TV

DVD Player

Netflix Enabled

Board Games

Kitchen Facilities

Gas Hob & Oven

Fridge Freezer

Microwave

Cooking & Baking Essentials

Dishwasher

Cafetiere

Blender

Outside Space

Hot tub* (Charges Apply)

Coal BBQ

Garden Furniture

Driveway Parking (2 cars)

Miscellaneous

Linen Provided

Ironing Board and Iron

Clothes Airer

Towels Provided

Hair Dryer

For Children

Highchair

Stair Gate

Bed Safety Guard

Travel Cot

Toddler Cutlery Set

Games Console

Dog Friendly

3

Distances

< 5 min Drive to Beach

Walk to Places to Eat

Walk to Village Centre

Walk to Supermarket

Suitable For

Dog Friendly

Groups

Families

Children

Surfers

Elderly
Rates
Holiday Enhancements 
Subject to availability and if requested upon booking

*Dogs stay FREE January to Easter & November*
Pets - £40 (per week/short break) (Max 3)
Lazy Spa Jacuzzi Hot Tub Hire Option from £140 (Subject to availability)
Late Departure (6pm) - £60 (For out of season breaks ending on a Sunday & subject to availability)

SuperKing Bed - Request twin beds into superking with single duvets. 
Additional Booking Information
Check-in time; from 5 pm | Check-out time; 9.30am
30% of the rental cost and non-refundable booking fee is required to secure the booking with the balance due 7 weeks prior to arrival.
Holiday Cottages with Hot Tubs* - Management
For us to comply with Health & Safety regulations all hot tubs are emptied, sanitised and re-filled with fresh water and chemicals before the commencement of every new holiday. Therefore, we are unable to provide any guarantees that the hot tub will be up to full working temperature until the morning after your arrival. 
Where possible our service providers will endeavour to prepare your hot tub in advance, Thank you. 
Availability
Unavailable
Changeover
Short Breaks
Discount
Map
Local Amenities Nearby
BAR
:
Williams Arms Pub
-
30 metres
ENTERTAINMENT
:
Tarka Trail
-
800 metres
BAR
:
Braunton Pubs & Restaurants
-
0.7 miles
BEACH
:
Saunton
-
2.8 miles
BEACH
:
Crow Point
-
2.8 miles
GOLF
:
Saunton Golf Club
-
3.0 miles
Reviews






Lovely and clean and property manager was lovely.
Highly recommended lovely house with lots of room and in a fab location.
Aug 2023

Joshua





The agents were amazing and extremely helpful. It made our stay!
Thank you again. I would love to tell your company how amazing you guys have been. At the very least leave you a review. It's been a rocky transition but you guys have definitely made everything much easier. I will definitely recommend you guys in the future!
Jul 2023

Richard





Would definitely recommend
Great time shared with the family. spacious, relaxing . Lovely enclosed garden
May 2023

Paul





Online Review 5/5
We had a great few days in the Braunton area - despite quite a bit of rain!
House worked really well for us - 5 people and a dog. Great base for Croyde, Saunton, Westwood Ho! and Woolacombe. Thank you.
Apr 2023

Trpadvisor Review





Perfect location
We booked our 3 day stay at Cloudbreak as we were at a wedding nearby. There was 6 of us & the house was warm & cozy. Beds were comfy & plenty hot water. The kitchen was well equipped. You have to be mindful of parking so not to upset the neighbours so eventually we parked in the pub carpark opposite who do the most amazing carvery on a Sunday. Great location for exploring this beautiful area.
Jan 2023

Alex





Amazing place with great access to the beach and Braunton.
Thank you for letting us use your place, we had a great weekend
Feb 2023

Amanda





Lovely clean cottage little extras in draws if you forgot anything and manager very helpful when messaging
Dec 2022

Gemma





Great location for all the beaches and local towns. Spacious enough for 2 families and 4 children, well equipped for all the family. Lovely little garden and decent sized lounge and woodburner.
Nov 2022

Online Review





We are already going to book for next year!
The property was exactly what we needed, easy to find and a great location
Sep 2022

Miss Leonard





we all loved the house
Great house with loads of room. kitchen was well equipped too. we had a great stay. thanks for your help with this stay & our last minute booking!
Apr 2022

Liz





Excellent accommodation ideal for family's
it was very clean very comfortable and an ideal situation
Apr 2022

Claire Rose





An excellent stay from start to finish.
The cottage was exactly right for our family needs. Will definitely being looking to stay at Cloudbreak cottage again. Thank you.
Dec 2021

Jigs





What a gem of a place!

Roaring log fire, loads of space for the kids, games and toys already there for the young un's and adults to be kept amused. Loved our stay and would defo recommend.Thank you for letting us stay at the lovely cottage - we loved the scones and were ever so thankful after an arduous journey. The fire was on all the time we were home and we didn't leave that room! Lovely stay despite the adverse weather conditions.
Dec 2021

Margaret





Definitely recommend.
Everything was done to a very high standard. Property manager was extremely helpful.
Dec 2021

Anna





Lovely house.
Plenty of space for 8 people. Croyde holidays communicated well and are fine, but if booking go straight to them and avoid air B&B site as it costs more, lesson learnt.
Nov 2021

Jo





Online Review ★ ★ ★ ★ ★
The property was ideal for a group of friends. The layout was well suited for us to prepare food, then eat it together before chilling out in the lounge. It is well situated for the beaches and walking the coastal paths. The only downside is its location close to the busy A361, a bit noisy if the windows are open. Overall a great place to stay.
Sep 2021






The property was clean and spacious and very well-equipped.
We spent a week at Cloudbreak as a family with 3 teenage children. The property was clean and spacious and very well-equipped. The courtyard garden is a little sun trap. The house is well located for exploring the surrounding area and a short walk into Braunton down the Tarka Trail. The road outside is quite busy but it didn't keep us awake at night. Nikki the housekeeper was very friendly and helpful.
Aug 2021

Richard





The house is spacious and welcoming.
The garden area is a little sun trap and the lounge, dining room, and kitchen suites is very well. Parking for both cars helped. Having a nice pub across the road was an unexpected bonus.
May 2021

Jane





The property was fabulous!
Bautifully decorated, very clean, the beds were comfortable, everything was fab. Nikki left us some scones which were delicious too!
May 2021

Jake





Thanks for a nice stay at Cloudbreak
We enjoyed our stay at Cloudbreak, it is very modern & comfortable and was spotlessly clean! The location is great for exploring North Devon & we particularly enjoyed sunset walks in the dunes with the rabbits of Braunton Burrows. The house is close to the main road - but thankfully there's not a lot of traffic at night. Thanks to Croyde Holidays and Nikki the housekeeper for an enjoyable break!
Apr 2021

Anne-Marie Francis





Nice big property opposite lovely pub and plenty of walks for dog owners. Handy laundry facilities and well equipped kitchen. Comfy beds. Great base for North Devon beaches.
Dec 2020

Heidi Shewring





Cloudbreak is a great property for a family break, spacious and well equipped.
Great location close to the beaches, Tarka trail and Braunton Burrows, so perfect for those with dogs!
Oct 2020

Carole





Nice spacious property close to amenities and lovely beaches.
Aug 2020

Philip





Online Review
A very nice big house for a couple of families. Large rooms all round. Close to the beaches
Jul 2020

Chris Jennings





Cloudbreak is a perfect base for a holiday in North Devon
The interior is very tastefully furnished in all rooms. The extra shower downstairs was a bonus when everyone is getting up at the same time.
We loved the wood burner even though we probably didn't really need to use it. The wooden floors downstairs were really easy to clean after dirty paw marks. Would highly recommend Cloudbreak its in the top 2 of our favourite holiday accommodations.
Nov 2019






Great facilities
Plenty of crockery and cutlery etc, bed linen and towels great quality. Lovely garden to eat outside in and great to have a BBQ.
Jul 2019

Online Review





Online Review '★ ★ ★ ★ ★
Excellent service throughout. Would also recommend hire of the hot tub, a great bonus after a long day.
Jul 2019






Online Review ★ ★ ★ ★ ★
This is a lovely property, very homely and they cater for everything. Would definitely recommend and return.
Jun 2019

Online Review





Online Review 'Beautiful house close to the beach by car'
We liked the flexibility of the check in and check out and the big living room dining room and kitchen to stay 8 people. Nice garden to eat outside and do barbecues
May 2019

TripAdvisor Review





Tripadvisor 5 STAR Review - "wonderful house to rent"
location was perfect for us as we were going to a wedding in nearby braughton the house was perfect for 7 adults and a baby we all had plenty of space large kitchen sitting room and dining room close to several lovely sandy beaches just a pity we couldnt stay longer will return soon
Apr 2019

Karen





Online Review
Really enjoyed our stay. House beautifully furnished felt right at home as soon as we arrived. Can't wait to book again.
Apr 2019

Karen





The cottage was clean and tidy, lovely and warm and very well equipped and furnished to a very high standard. The beds were really comfortable and all the rooms were a good size.
Jan 2019






we had a lovely time in North Devon with our second holiday based at Cloud Break.
Its location is ideal for us visiting family in the area but also close to stunning local beaches, walking distance into Braunton along the Tarka trail with a selection of restaurants and shops. Comfortable and well-equipped house, thanks again!
Jul 2018






Wonderful house for a family holiday. ★ ★ ★ ★ ★
The house was in a great position for everything we wanted to do. 8 of us stayed here, ages ranged from late sixties to eleven months, and there was plenty of room for us all. We ate in a lot and it had all the facilities we needed to cook for all of us. We had two barbecues and there was plenty of room for us all to sit outside and enjoy the food and weather! Lots of great beaches nearby.
Jun 2018






Tripadvisor 5 STAR Review - "A Fantastic Fun-Filled & Relaxing October Break!"
Cloudbreak is in a fantastic location so close to the beautiful beaches of Saunton Sands and Croyde, and neighbouring accesible walks at Braunton Burrows and Crow Point. We have really fitted so much into our stay here. Barnstaple town is just 10 minutes' drive away, and has a great indoor traditional market with fudge shop! The house itself is spacious, cosy and very clean and comfortable. We have cooked several meals in the well-equiped kitchen, and appreciate the chance to all eat together in the large dining room. We have enjoyed evenings sitting by the log-burner playing some of the great board games available, or reading novels from the bookshelf. The beds are lovely and comfortable and there are masses of thick, fluffy towels for all of us. Our dog loves walking down the Tarka Trail just 5 minutes' away, and we have met many friendly locals. Its also a fantastic running route, peaceful and visually stunning. We would happily return to Cloudbreak again, and cannot recommend it enough, we feel totally rejuvenated after our week here.
Oct 2017

Shaw





Met our expectations - We would recommend to friends and Family
Excellent cottage and location, the main road is busy into Braunton which we knew from previous experience. no lawn but good for barbecues and having a relax and a drink in the evening.
Aug 2017






A really lovely house & garden
Off road parking for up to 3 cars which is rare in Braunton! Clean, comfortable & close to the Tarka trail (walking distance from house). Braunton is a good base being not far from good beaches at Saunton, Croyde & Woolacombe and is well-equipped with some good places to eat.
Aug 2017






Tripadvisor Review - Beautiful house in great location
We had the most wonderful holiday at Cloudbreak! The house is simply lovely. From the fresh, quality, linen to the pretty south facing garden, it really was so well equipped and super comfortable. The pub across the road is fab; family friendly, serving good food and wine/beer and plenty of room for the children to entertain themselves. We were made to feel very welcome. The house is ideally located for the beaches (Saunton sands being our favourite) and fun family days out, the dinosaur park was great fun. If you just fancy lounging around, the living room is lovely with toys and blankets, or head for a walk Down the Tarka trail which is flat and good for scooters and feeding the ducks! We would definitely return. We spent over £6k going to Portugal for 2 weeks last year and I couldn't say one was better than the other!
Jul 2017






Tripadvisor Review -Family Easter break
Really nice to have quality soft and hard furnishing that you'd furnish your own home with and to get them in a holiday cottage is a great plus. The accommodation is spacious and has everything you need for your weeks break. The only oddity is that three of the bedrooms are at the front of the house which is near a busy main road. The garden is a real sun trap and really is dog proof! The location is great especially if you enjoy cycling as its an easy and safe cycle ride to the Tarka trails (under a mile) where my son and I we clocked up over a 100 miles in a week. The broad speeds are good (24 mbps) and enough to keep demanding kids and dads happy when the weather isn't very good. We had a few house-keeping issue that we hadn't expected but these were resolved very quickly and efficiency by the management company and didn't impact on the holiday at all,
Apr 2017






Tripadvisor Review - Beautiful house in a wonderful area
We had a wonderful week at Cloud Break. A lovely house, everything we could have hoped for. Beautifully furnished, clean, well equipped kitchen and thoughtful extra touches like a PS3 and google chromecast. And what an area. Close to some of the most beautiful beaches I've ever seen. We had wonderful weather and had a wonderfully relaxing holiday. Some fantastic walks from the house, along the turka trail towards the estuary. Local playground for the kids with walking distance of the house, as well as a handy pub. Sad to leave!!
Apr 2017

Ben





Tripadvisor Review - Fantastic - a home from home
We couldn't want for more... fantastic location close to lots of amenities, a lovely pub across the road and we managed to visit a different beach/tourist attraction every day with no more than 20 minutes driving. The house itself is absolutely gorgeous and wants for nothing and is very child friendly as well. As such we will definitely be returning as I can't think of a nicer, more relaxing place to stay.
Jan 2017

Fiona





Quick booking and Friendly team.
Williams arms pub is good across the road. Kitchen was well equipped. Able to have a BBQ in the garden. On road between Ilfracombe and Barnstaple. Beds were comfy.
Sep 2016

Unknown





A good family holiday home
Booking was easy, straightforward and quick. The cottage was cleaned and prepared to our satification. Plenty of seating and good sized bedrooms.
Jul 2016

Rose Skeet





Great cottage lots of extras !!
Michelle our property manager was very helpful, We were pleased with the amount of plates etc and lots of extras for toddlers. Plenty of room for 6 adults and 2 kids, didn't feel crowded at all.
Jun 2016

Howard





We had a fab holiday !
Property lovely and clean, fresh bedding. Large property with all the right requirements. The housekeeper was very helpful. Thank you, would go back again.
May 2016

14 August 2015





Awesome Stay
We had a really wonderful time staying in this lovely house. There were eight of us and we never felt on top of one another at any time. The house was well kitted out and many additional extras too. We had a lot of rain and made the most of exploring Devon on those days. The occasional day that we did vegetate and stay in we played one of the many board games provided for our entertainment. The house is in a great location as it is very close to all local attractions, a quick drive to Barnstable and a drive or walk into Braunton where they have some lovely boutique shops and eateries. The Williams pub opposite has an excellent Sunday Carvery and good value for money. We BBQ most nights as a lot easier with 8 people. The beds were uber comfortable and our twin girls slept from seven till seven every night of our two week stay!!!! Champagne air they call it xxx A really perfect spot for a family getaway and plenty of space for the grandparents too,
Aug 2015






Superbly appointed cottage within easy reach of all local amenities.
Superb location to Braunton and all amenities as accurately described on website, Personal touches on arrival meant a lot. Beds are devine! So comfortable! Prompt to respond to any enquiry. Professional and friendly. A very thoughtful owner/manager with excellent attention to detail. Highly recommended.
Oct 2015