Home >
Bag-End House Georgeham
Impressive & Stylish Home Suited to Entertain all Ages
CH
2079
Georgeham, North Devon,
Sleeps

14
Bathrooms

4
Bedrooms

7
Pets

Yes
HotTub
Yes
Changeover

Friday
Description
Uniquely styled and bursting with lavish features ready to entertain - hot tub, games table, cabin and balcony. The house has been refurbished and designed with the owners unique styling and ready to entertain and cater for all age groups. Set in the desirable location of Georgeham this property has great surroundings for a family or group of friends holiday.
Bagend in Georgeham provides an seven impressive bedrooms and the master bedroom is fortune to have an en-suite. The six main bedrooms are located within the main house with the seventh located in the garden as a self contained one bedroom cabin annex with own shower room and kitchen facilities. This property boasts an array of entertainment options to include; Garden gated access to Georgeham children's play area with basketball and football,
a large decked area with ping pong table and private balcony with great views.
After a long day exploring, return home and have a soak in the
bubbling sunken hot tub*
that awaits.....
For food lovers, The Kings Arms and The Rock Inn are a short walk from the property and for beach lovers, Croyde beach and Putsborough are a five minute drive. Whether you are young or just young at heart you will never run out of things to do here at Bag End.
PROPERTY
Living room with cozy log burner, three matching beige sofas, coffee table and a wall mounted LCD Freeview TV.
Kitchen diner with Range cooker, dishwasher, microwave, fridge freezer, toaster and Dolce Gusto coffee machine. Good selection of cooking utensils and crockery for all your dining requirements. Dining table and seating for 12 guests and breakfast bar seating with access onto the decking area with private hot tub*
Under stairs access to the washing machine.
Bedroom One and Two - Double bed and Bunk Bed split into Two bedrooms with Jack and Jill walk in shower room separating both rooms with a WC, washbasin and shower.

1st Floor
Bedroom Three - Double bed and single day bed with French doors leading onto the balcony with seating and views overlooking the playing fields.
Master Bedroom - Double bed, bedside tables, wardrobe and Ensuite bathroom; bath, shower, w.c and washbasin
Bedroom Five - Double bed, wadrobe and bedside tables.
Bedroom Six - Single bed with bedside table.
Family bathroom with bath, shower over, w.c and wash basin.
OUTSIDE SPACE
Bedroom Seven - Double bed in its own private self contained annex in the garden with sofa, breakfast bar with stools, wardrobe, bedside tables and kitchenette equipped with a kettle, fridge, toaster and microwave. There is also an en-suite bathroom with shower, wc and washbasin.
8 seater square sunken hot tub*, ping pong table, balcony, decking, BBQ and seating area. The garden gate backs onto Georgeham playing fields and play area which is ideal to send the children out to play while the adults socialise.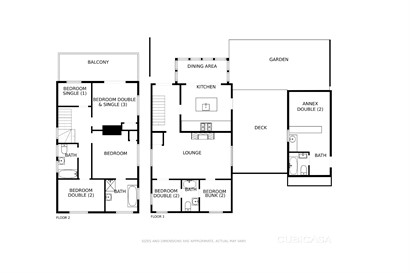 Read more about Bag End House
Hide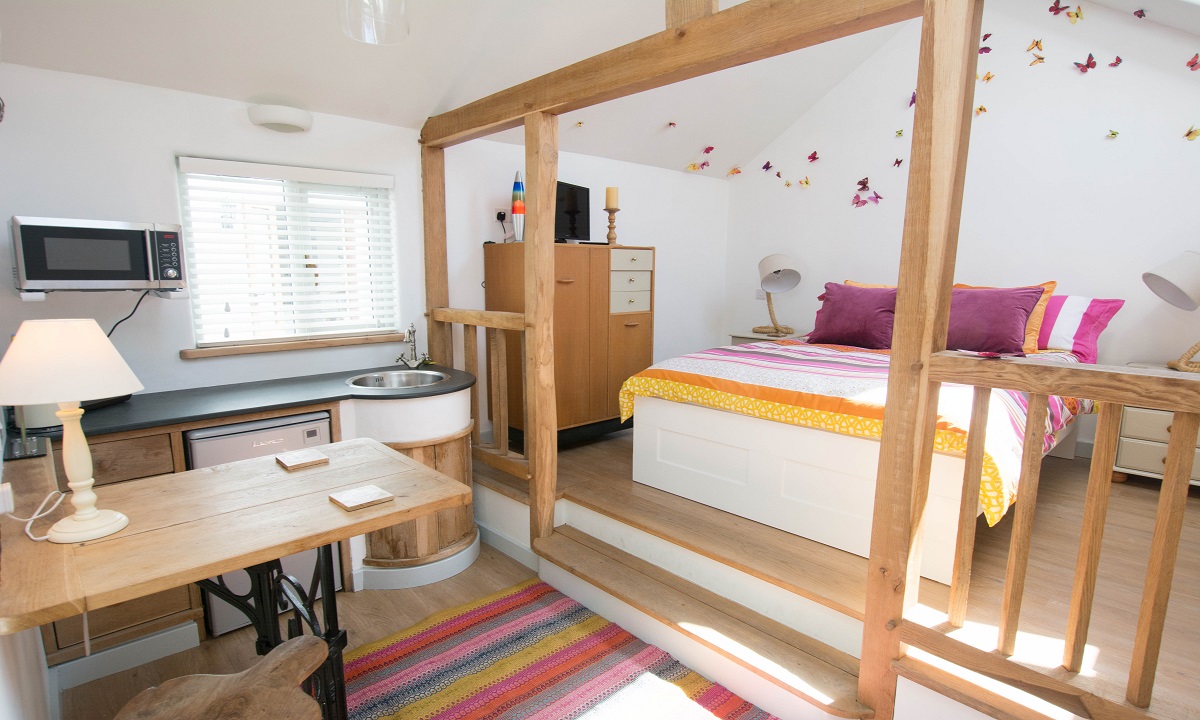 Amenities
Relax in the bubbling hot tub and gaze at the stars!
Living Space

Wi-Fi

Freeview

Football Table

Large LCD TV

DVD Player

Wood Burner / Fire place

Kitchen Facilities

Aga or Range Cooker

Fridge Freezer

Coffee Machine

Blender

Cooking & Baking Essentials

Dishwasher

Under Counter Fridge

Microwave

Washing Machine

Outside Space

Hot tub* (Charges Apply)

Ping Pong Table

Coal BBQ

Private Balcony

Garden Furniture

Driveway Parking (3 cars)

Miscellaneous

Linen Provided

Ironing Board and Iron

Clothes Airer

Ensuite Bathroom

Hair Dryer

For Children

Highchair

Stair Gate

Fire Guard

Travel Cot

Toddler Cutlery Set

Board Games

Dog Friendly

4

Distances

< 5 min Drive to Beach

Walk to Places to Eat

Walk to Village Centre

Drive to Supermarket

Accessibility

Ground Floor Bedroom & Bathroom
Rates
Holiday Enhancements 
Subject to availability and if requested upon booking

Pets - £40 (per week per pet) (Max 4)
Hot Tub Usage - £165 (4-7nights) 
Hot Tub Usage - £120 (2-3nights) 

Late Departure (6pm) - £140 (For out of season breaks ending on a Sunday & subject to availability)

Highchair  - Two highchairs available - Free of charge
Travel Cot - (excludes linen) Free of charge
Additional Booking Information
Check-in time; from 5 pm | Check-out time; 10am
30% of the rental cost and non-refundable booking fee is required to secure the booking with the balance due 7 weeks prior to arrival.
Holiday Cottages with Hot Tubs* - Management
For us to comply with Health & Safety regulations all hot tubs are emptied, sanitised and re-filled with fresh water and chemicals before the commencement of every new holiday. Therefore, we are unable to provide any guarantees that the hot tub will be up to full working temperature until the morning after your arrival. 
Where possible our service providers will endeavour to prepare your hot tub in advance, Thank you. 
Availability
Unavailable
Changeover
Short Breaks
Discount
Map
Local Amenities Nearby
BAR
:
Georgeham Pubs and Restaurants
-
300 metres
BEACH
:
Putsborough Beach
-
1.6 miles
BAR
:
Croyde Pubs & Restaurants
-
1.2 miles
BEACH
:
Croyde Beach
-
2.4 miles
GOLF
:
Saunton Golf Club
-
4.0 miles
VILLAGE
:
Braunton
-
2.9 miles
AIRPORT
:
Woolacombe
-
3.3 miles
Reviews

Verity





Had a great stay for my mums 60th. The house was lovely
Nov 2023

Clare





Thank you for a good place to stay
A good place to stay, but would be really squashed if more than 8 people stayed as the living room was rather small
Sep 2023

Luke






Andrew





Great base to visit North Devon.
Sep 2023

Grace





The house was clean tidy and perfect for a larger family with all ages catered for. The property manager was very helpful and efficient contacted. The access to the playing field behind was a huge bonus. The location is perfect, with enough near by for eat out, shop etc and also the beaches.
Aug 2023






Excellent from start to finish!
A really excellent find, great cottage with superb facilities in a lovely village close to a range of great walks and beaches. Extra touches such as 2 fridges, lots of kitchen utensils and plenty of sockets alongside facilities such as hot tub and table tennis, meant there was something for everyone. We were 11 with a dog, and even though the cottage was set up for 14 in terms of beds, it would have been tight for seating had we filled it. Excellent, from start to finish, the housekeeper even kindly sent back some items we had left behind.
Aug 2023

Kim Sneddon





Excellent! Amazing property in the perfect location
Jun 2023

Anthony





Generally very good clean accommodation. It would have felt overcrowded with 14 but we had only 6 adults and two small children so spacious enough. Hot tub and barbeque great to have. The Annex is charming and self contained. Really excellent food at the local pub (The Rock Inn) only a three minute walk away. Great location for multiple sandy beaches.
Jun 2023

Tom Larbey





Great house for any occasion. Everything you need was at the house and location as perfect. Definitely recommend and return back ourselves.
Jun 2023

Emily





We visited Bag End House as a large family to celebrate my dad's 60th birthday, and we had a wonderful time. Bag End House was just as described and photographed. Rebecca, the host, was amazing with communication and extremely accomadating. She was readily available to answer any questions and went out of her way to bring us heaters and blankets as the weather was particularly cold when we visited. The house was welcoming and clean on arrival, and everything has been thought of for accomadating so many people. There was even added extra touches for Christmas, which was so lovely and thoughtful. Thank you Rebecca for making our stay so enjoyable, our weekend away at Bag End House was brilliant. I definitely recommend
Dec 2022

Emily





Thank you for our stay.
Lovely property for a group of friends. It is spacious and clean. The garden was beautiful and having the gate straight onto the field was a real bonus for our dog!
Oct 2022

Graeme





Thank you for a wonderful stay!
Lovely location only a short drive to the beach. The house is fantastic and a perfect base for the 10 of us (incl. 3 kids). All the facilities and host communications were great but make sure you bring your own towels and beware the early checkout!
Jun 2022






Everything was fantastic, clean and perfect.
The house was lovely for our group of 8 adults and 6 children. Well maintained and clean. The field & playground backing onto the house was a bonus along with the hot tub! Would come back again.
Jun 2022

Matt





Great location.
Excellent house in an excellent location. 10 mins to multiple beaches and backing onto excellent field and park. Pubs in walking distance were a bonus. House a bit small, but for 10 adults and 3 small children we were comfortable in our case.
May 2022

Sam





The property looks every bit as good as the photos!
Great communication and lovely house in a great area. We celebrated a 40th birthday and made great use of the large dining area inside and out.
Apr 2022

Claire





Had a fab weekend celebrating my husbands 50th. Well equipped accommodation. Christmas decorations a nice touch. With some well planned parking we managed to get 4 cars on the drive.
Dec 2021

Jamie





It's a lovely location if you want to be slightly remote. Local pubs are excellent and are within very easy waking distance. The separate annex is great for those who want a little piece and quite. Hot Tub and Table Tennis are great additions. I'd recommend this place to others.
Dec 2021

Nigel





A lovely house with great facilities.
A lovely big house with great facilities. Only 10 minute drive to Croyde beach. Hot tub was a definite bonus.
Nov 2021

Grace





Beautiful House
Location was absolutely perfect for our big family holiday away. Thanks so much!
Oct 2021

Lisa





Had a lovely stay
Lovely stay in Bag end House, fairy clean but some areas needed some TLC. The house is a good size but not suitable for more than 10 people. Very small lounge and the kitchen just about fit 12 of us. Hot tub a great treat and the table tennis was fun. Nice having the annexe, especially with the kitchen. Had a lovely meal in the local pub Rock inn and a drink at the Kings Arms. Good half an hour walk to the local beach.
Sep 2021






We had a lovely week at Bag End House getting together with family. The beds were comfy and the kitchen was smart and very well equipped (but remember to bring all condiments and dishwasher tablets etc). Having a separate annexe for Granny & Grandad was a welcome bonus and it was nicely kitted out. The outside space was fantastic - it was lovely to BBQ and eat outside and the hot tub, table tennis & playing field for footie games/swings were excellent.

I would say the house would be a squeeze for 14 people unless quite a few of them were more hobbit sized. There were 10 of us, (8 adult-size + two kids) and it felt about right but only just room for all to sit down in lounge.

The village is nice with useful shop and a couple of popular pubs. The Rock Inn is just a few steps down the road and we had a brilliant meal out there all together.
Sep 2021

Mr Arrow





A great property for a family holiday!
Covid adjustments easily accommodated - many thanks!
Aug 2021

Kerry





Wonderful Stay !
We had a wonderful stay at Bag End House arranged at very short notice. The whole house is beautifully decorated. The kitchen is a great social space and well stocked if you want to cook. The bedrooms were spacious and the beds were very comfy and cosy. The local area is really pretty and just a short drive into Croyde. It's a great base to explore North Devon. The local pub The Rock Inn is a minute down the road and was really friendly with great food but be sure to book ahead as they get very busy. We all loved our stay including our dogs and definitely want to come back. Overall, we had a brilliant time and loved our stay
Oct 2020

Sophie





Online Review
We stayed for a weekend get together (11 adults plus kids!) and the space, location and facilities were perfect. The house was extremely clean and the kitchen/diner space was great for a big group. The village is well located for nearby beaches and has a great pub just down the road.
Feb 2020

Online Review





Online Review ★ ★ ★ ★ ★
We were a family party of 14 and had an amazing time at Bagend. Superb property, lovely hot tub and happy memories made. Thanks Bagend! We hope to be back.
Nov 2019

Online Review





Online Review
Lovely well equipped holiday home in an idyllic village. Walking distance to two friendly pubs both serving good food and close to Puttsborough beach. We had fantastic weather and the hot tub was a great addition. Will definitely return to Georgeham.
May 2019

Online Review





Online Review
9 adults, 4 children and 2 dogs stayed over early May Bank Holiday and had a fabulous time. Plenty of room for us all and well resourced. Small annexe so grandma could escape! Loved the hot tub and fact recreation ground accessible. Beautiful walks, dog friendly beaches and great pubs! And the sun shone!!
May 2019

TripAdvisor Review





Tripadvisor 5 STAR Review - " Great location for a family holiday"
A family holiday to celebrate two birthdays, comprising of 7 adults, 5 children and 2 dogs. Lovely house in a perfect location, great beaches and plenty to keep the grandchildren happy.
Apr 2019

Linda





Had a lovely family stay to celebrate two birthdays in an ideal location.
The owner was approachable, very helpful and the house gave us the flexible accommodation we needed.
Apr 2019

Simon





Online Review
Great house with a great location. Spotless when we arrived. The hot tub was clean and worth the extra. Plenty of space for a large family such as ours. No complaints at all
The entire family loved the stay. Thank you for having a great house in a great location. The weekend away was spot on
Mar 2019

TripAdvisor Review





Tripadvisor 5 STAR Review - " New Year Break"
Had a great stay over New Year. House was well equipped with everything needed. It suited our party of 3 families and was a great base to explore the local area.The local pub The Rock Inn was excellent for both a meal and or a drink.
Jan 2019






Good location with a well equipped home.
★ ★ ★ ★ ☆ Quiet spot yet with a smashing pub/restaurant close by. A clean and tidy house with good rooms though the lounge is a bit small for possibly 10 or more people together. Close to some fabulous beaches and direct access to a field and playground for younger guests. A good hot-tub added bonus.
Sep 2018

Joanna Ayres





Tripadvisor 5 STAR Review - " Bank Holiday Fun"
Amazing house for a girls weekend away. Everything we needed was there and the hot tub was great. Perfect location for beach and pubs. The weather was amazing so we made use of the outside space every day. Would highly recommend.
May 2018






Really lovely and catered for everything we needed. Thank you ★ ★ ★ ★ ★
Really lovely house to stay, close to pubs short drive to the beach which was not busy for a Bank Holiday defiantly come back again Thank you
May 2018

Emma Hodges





It is a very well looked after house.
The owners have not skimped on bedding or decor, it is beautiful! The holiday house had just been cleaned, so smelt lovely upon arrival. They left the lights on for us and it was all beautifully presented.
Feb 2018

Mary Ann H





Tripadvisor 5 STAR Review - "Family Gathering"
Reasonable price for a last minute gathering Beautiful house and very spacious. My family and I had a lovely stay. Rooms were clean and freshly made bedding. Would suggest to remember amenities for the stay such as extra toilet rolls, washing up liquid etc. Some was provided but didn't last our 4 night stay. Living room has a lovely log burner which we suggest getting logs prior to the stay to warm up the house as we found that the house was cold and took a while to warm up on the normal heating. Hot tub was set up for our use which was amazing. Photos of the accommodation is exactly as you will find it. Beautifully furnished. A lovely stay and would recommend.
Feb 2018

TripAdvisor Review





Tripadvisor Review - "Not just a holiday let - more like a home from home"
Our group of 10 (5 adults, 5 teenagers) had a wonderful week at Bagend. It's a beautiful house, wonderfully decorated with lots of quirky touches. It didn't feel like a bland holiday let - it really was a home from home with comfy beds, luxurious bedding, squidgy sofas and lots of nooks and crannies to relax in. Us adults made good use of the hot tub and the 5 teenagers made good use of the wifi! Location is great too - Georgeham is a lovely village and both pubs within 100 yards serve excellent food. Close to beaches with Putsborough being by far our favourite. All in all we couldn't fault any of it - the owners really have done a wonderful job. It's worth mentioning, despite the warning on the details, we did not experience any issues from the building works on the house next door. No noise at all. Overall a wonderful break and we would all certainly recommend Bagend.
Sep 2017