Attractive & Spacious Family Retreat in Croyde
CH
2016
Croyde, North Devon,
Sleeps

8
Bathrooms

3
Bedrooms

4
Pets

Yes
HotTub
No
Changeover

Saturday
Description
Modern, attractive and spacious family retreat in Croyde, well equipped property with plenty of home comforts. Internally, Rockpool offers a good standard of furnishing throughout, is well equipped bright and airy. The property benefits from
underfloor heating
which is perfect for returning back from the beach and warming your toes. Externally, this property benefits from a terrace decking area to the rear, perfect for relaxing and enjoying a barbecue after a long day exploring the various attractions that North Devon has to offer.
Ideally positioned for a short walk to both Croyde Beach and to the thriving surf based village centre with a selection of pubs and shops.
Rock pool is a fresh home from home
and its location provides a great base for a family holiday in Croyde.
PROPERTY:
Bright and airy lounge with laminate underfloor heating throughout, two beautiful rich blue sofas and occasional chairs with views out onto the front garden. Wall mounted flat screen TV and storage. French doors onto the rear garden's decking.
The kitchen has crisp clean newly installed modern pale green units and a white work surface. integrated hob, electric oven, dishwasher, fridge freezer, microwave oven, toaster, kettle as well as all the other essential kitchen utensils you would require. Dining area features a large dining table with seating for 8 that enjoys views through the large French doors out onto the rear decking.
Downstairs bathroom with a W.C and washbasin.
Hallway cupboard with washing machine and tumble dryer.
1ST FLOOR
Master bedroom- Double bed, views of the countryside towards Croyde beach with white bedside tables, clothes storage and an en-suite modern shower room with W.C, double walk in shower and washbasin.
Bedroom two - Double bed, bedside tables, chest of drawers and full length mirror.
Bedroom three - Bunk bed and chest of drawers.
Bedroom four - Twin beds with sea glimpses of Croyde and chest of drawers.
The family bathroom comprises of a bath with shower over, pedestal washbasin and W.C.
OUTSIDE SPACE
Garden furniture and BBQ is provided for al fresco dining. Fully enclosed rear garden that wraps around the rear of the property comprising of a small rear terrace patio, outside shower, raised decking area and part garage storage with plenty of secure storage for surfboards, wetsuits or bikes.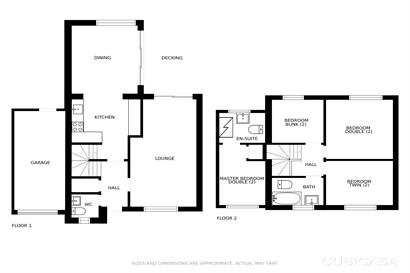 Read more about Rockpool
Hide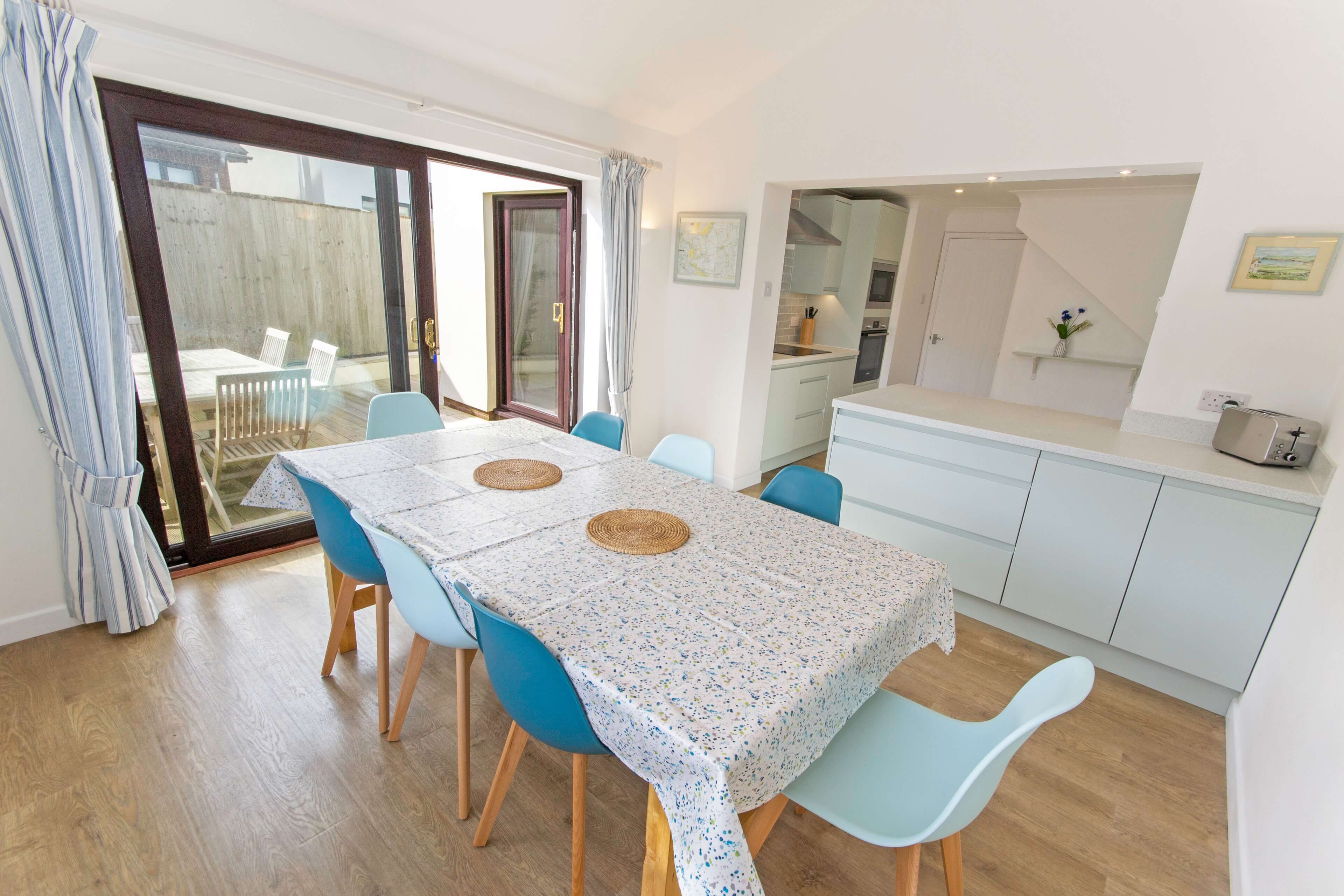 Amenities
Living Space

Wi-Fi

Freeview

Board Games

Large LCD TV

Netflix Enabled

Underfloor Heating

Kitchen Facilities

Electric Hob & Oven

Fridge Freezer

Microwave

Washing Machine

Cooking & Baking Essentials

Dishwasher

Cafetiere

Slow Cooker

Tumble Dryer

Outside Space

Outside Shower

Coal BBQ

Wetsuit / Surfboard Storage

Garden Furniture

Bike Storage

Driveway Parking (2 cars)

Miscellaneous

Linen Provided

Ensuite Bathroom

Clothes Airer

Towels Provided

Ironing Board and Iron

For Children

Highchair

Stair Gate

Board Games

Travel Cot

Toddler Cutlery Set

Dog Friendly

1

Distances

Walk to the Beach

Walk to Places to Eat

Walk to Village Centre

Suitable For

Dog Friendly

Groups

Families

Children

Surfers

Elderly

Type & Access

Steps with Handrail to Access Property
Rates
Holiday Enhancements 
Subject to availability and if requested upon booking
Pets

 - £40 

(per week) (1 only) (2 by special request only) (sorry, No puppies)
Late Departure (6pm) - £80 (For out of season breaks ending on a Sunday & subject to availability)
Additional Booking Information
Check-in time; from 5 pm | Check-out time; 10am
30% of the rental cost and non-refundable booking fee is required to secure the booking with the balance due 7 weeks prior to arrival.
Availability
Unavailable
Changeover
Short Breaks
Discount
Map
Local Amenities Nearby
BEACH
:
Croyde Beach
-
800 metres
BAR
:
Croyde Pubs & Restaurants
-
650 metres
GOLF
:
Saunton Golf Club
-
2.4 miles
VILLAGE
:
Braunton
-
4.4 miles
Reviews

Fenella





Thank you so much for a wonderful holiday.
A perfect location for a few days surfing with teenage children. The house was great. Definitely will return.
Jul 2023

Ben





Good !
Property was nice and clean, outside seating area could possibly do with some lights.
Jul 2023

Joseph





Great spot not too far from the beach. Ticked all the boxes and we really enjoyed our stay. Easy instructions. Kitchen had pretty much everything we'd need.
Jun 2023

Elizabeth Noble





We love it here!
Lovely, spacious, modern, well equipped and comfortable cottage in a great location. Peaceful and scenic surroundings and easy walking distance to the beach and the village. We have been coming to Rockpool every May for 10 years now, bar the COVID years, and it's like home from home to us all. We love it here!
May 2023






Great Location for Beach & Village amenities & excellent walks nearby, with fantastic views & scenery.
Property is spacious for 8 people & well equipped.
Dec 2022

Christian





Great property, easy check in, would stay again!!
Oct 2022

Ann





The house is very comfortable & well equipped. The location is perfect... quiet but walking distance to the beach 10 mins & the centre of Croyde a couple of mins further. Very clean accommodation & excellent communication with the company manager. We had a fantastic week celebrating a big birthday with family!
Jul 2022

Liz Noble





Spacious, comfortable and homely cottage in a lovely quiet location. Within easy walking distance of the beach and also the village.
May 2022

Simon





The house was in a good location and your housekeeper should be commended for her helpfulness
Lovely house in a great location for the beaches and walking. This modern house was a little small for our family of five but just abut adequate. The housekeeper was really helpful and easy to communicate with. I would just suggest that the main bedroom was on the cold side being above the garage. Other than that a very enjoyable stay.
Mar 2022

Georgie





We had a great time and loved the house!
Lovely house in a great location, we really enjoyed our stay and would definitely come back!
Jan 2022






A fantastic, well equipped house. Rockpools was clean and well presented and plenty big enough for our family of 5 adults and 2 children. Be aware that restaurants etc in Croyde close at 9.00pm
Agent Note -Due to Covid-19 many of the eateries in Croyde are choosing to close earlier than they would have pre-pandemic.
Aug 2021

Michele Fortune





Excellent property. Enjoy!
House was very clean. We were very pleased. Vicki was helpful when I texted twice. Excellent service, thanks.
Aug 2021

Julie





Croyde is a beautiful village.
The house was immaculate and smelt clean. Hand wash was provided. Croyde is a beautiful village. The beach is glorious. However there is little else in the village so you do have to travel for other entertainment.
Aug 2020

Sally Brackett





Lovely house with excellent accommodation
well equipped with many thoughtful features. Easy walking distance to the beach and village. Straight forward booking, plenty of information about property and what we needed to know.
Sep 2019

John





Lovely house. Great location.
Probably the best equipped kitchen in terms of cooking equipment we have ever had. Not a huge garden but it is a good sun trap and all rooms have great views of either the fields to the rear or the sea to the front.
Jul 2019

Liz





We've stayed at Rockpool for the last six years and it's like home from home
We've stayed at Rockpool for the last six years and it's like home from home for that special week in May. We love it and we're already looking forward to next year
Rockpool is spacious and comfortable and located in a lovely quiet position within walking distance of the beach and the village of Croyde,

Jun 2019

Julie Bailey





Online Review
A very well equipped and clean house. Close enough to the beach to walk even with young children. Would definitely go back. We had a lovely time even though the weather wasn't great.
Jun 2019

Andrew





Close to the beach, Clean and safe
A clean, comfortable and safe holiday cottage close to the beach and all other amenities. Well fitted out and big enough for our party of 7 without feeling enclosed. Would recommend and would stay again.
Apr 2019






Tripadvisor 4 STAR Review - " Relaxing Stay"
We had been to Croyde for many years but always in the months when the sun usually shines Whilst Croyde is a lovely place, dark descending at 4 deprives you of many of the pleasures Rockpool was an ideal venue for us. The owner is very attentive with the little things in life such as toilet paper, dishwasher powders, soaps etc which makes the short stay so much easier. The only thing missing was towels but they make that clear on the paperwork. Well equipped. Would happily stay again
Dec 2018

Jonathan





Online Review
Property was in a great location, very clean and accommodated everyone in good space; 8 adults, plus a couple of others joined us for dinner who were staying elsewhere but did not feel cramped at all. Easy walk to the beach and into Croyde.
Oct 2018






Tripadvisor 4 STAR Review - " Great Location"
Set in a quiet close Rockpool is located within easy walking distance to both the wonderful beach and charming village. The kitchen is well equipped, there is a good selection of games etc and the beds comfy. Although the garden is on the small side our two dogs found plenty of shade and we found a variety of areas nearby to walk them. We would definitely visit again...
Jul 2018

Nancy





Loved this place !!
Quiet but near the beach and it contained everything we needed and all was clean and in good working order. I would definitely recommend
Apr 2018

David Johnson





Really comfortable accommodation
Booking was efficient and customer friendly. A really comfortable, well appointed house in walking distance of the beach and village center. ation. Well appointed with lots of pleasing detail (buckets and spades, games for the children).
Oct 2017

Mark





A nice bright comfortable house, thanks for a great stay
A beautiful house in a nice quiet road a few minutes walk from the town and the beach, the layout is different to most houses I've stayed in and I liked it and the underfloor heating was divine.
Oct 2017

Sandra





Would highly recommend.
This cottage is in an excellent location for Croyde and the beach and is in a very quiet location. The cottage is extremely well equipped and was immaculately clean and tidy.
Sep 2017

Turpin





TRIPADVISOR REVIEW: Home from Home
Ideal property for our family of 10 ranging in age from 2-62. Everything we needed except towels, which would have been a great addition. Travel cot was included,, thanks. Been visiting this area for over 30 years so know the area well, great location, free WiFi a bonus. Would definitely return.
Jun 2016

Evans





Enjoyed our stay and will be returning next year.
Have just returned from a long weekend spent in this property. Croyde Holidays were very efficient, professional and helpful, the cottage is furnished, equipped, and maintained to a high standard. The location is perfect for a stroll to the beach and village. As an adult family of seven we all thoroughly enjoyed our stay and will definitely be returning next year.
Oct 2015

TripAdvisor Review





This was our 3rd trip back to Rockpool with another one at Easter,
great house, brilliant location for village and Croyde Bay, recommended.
Dec 2014

TripAdvisor Review





"Brilliant!"
This cottage was ideal for what we needed; great location with plenty of room at an affordable price. We will definitely be using this again in the future! Highly recommended.
Jan 2015

Neil





"Excellent holiday rental"
Rockpool was an excellent holiday rental ,our family is 5 plus our dog and everything was catered for and everything you could want was there . just a short walk to either the beach or local pub/restaurants, will revisit again for sure
Oct 2014

Beckwith





This is a practical house in a good location
you can walk to the beach and village easily so theres no need for a car. Plenty of storage in the garage for surfboards/bikes. Its well equipped for large parties with all mod-cons. The back garden has a decked area and a very small piece of grass so isn't great if you want space for children to run around and play. This shouldn't put you off though - we'd happily go back, especially if we got 7 days of sunshine like we did this year!
Jul 2014

TripAdvisor Review





"A modern , functional, very well equipped house near the beach."
This modern house is in easy walking distance of the beach for the family surfers.It was very well maintained/furnished/decorated & easy to live in for our large group.The kitchen was extremely well equipped for large scale catering & the spacious dining area was a boon.The washing machine & dryer was a bonus.Tremendous value for an off peak long weekend booking. Will definitely be rebooking.
Apr 2014

Ann





Hello, just to say what a brilliant place Rockpool is
it was very comfortable, the kitchen very well equipped. Furnishings well thought through and of a high standard, same as the décor. Will definitely be rebooking it. Please pass these compliments to the owner. thank you,
Apr 2014

TripAdvisor Review





"Good, clean, well kept property in an ideal location"
This property has no real frills or je ne said quoi to it. However, it was immaculately clean, spacious and well stocked and overall a very pleasant experience.
Mar 2014

Brooke Petersen





Rockpool was one of the best holiday rentals I have stayed in.
We had 6 in our group and there was defiantly more than enough space for 4 more. It was clean and spacious with an open plan kitchen and dining perfect for dinners. Also perfectly located a 5 minute stroll from the best Croyde has to offer and a walk to the beach.
Mar 2013