Home >
Shippenrill, Croyde
Style & Sophistication of a Boutique Hotel with Private Hot Tub
CH
2041
Croyde, North Devon,
Sleeps

14
Bathrooms

3
Bedrooms

6
Pets

Yes
HotTub
Yes
Changeover

Saturday
Description
Charming and sophisticated reverse living home with great facilities; Hot tub, fire pit, games table and more! Shippenrill in Croyde is the perfect choice for guests that enjoy the
style and sophistication of a boutique hotel,
but prefer the privacy and convenience that self-catering offers. Treat yourself to a quality experience, the accommodation is excellent and the location is ideal for parking up and from then on wandering on foot to all the amenities that Croyde has to offer.
Internally, the 6 bedroom holiday cottage is cosy with traditional features while having a modern touch with a selection of stylish bedrooms on the ground floor, one En-suite. You'll find an open plan kitchen living area on the first floor with access to the garden through two sets of French doors that fill the room with light. Relax and unwind with a glass of wine around the
cosy wood burner
Externally, the property has a large lawned area and patio with a
table tennis table
and garden furniture with a table and chair selection perfect for enjoying the afternoon sun and moments when the
bubbling hot tub*
calls.
PROPERTY
Large statement hallway with exposed natural stone, relax on the library leather sofa and enjoy quiet moments. This sleeps 14 holiday cottage with hot tub has 4 beautifully styled bedrooms on the ground floor and 2 further bedrooms on the upper floor providing an impressive 6 bedroom holiday cottage that is perfect for large families on holiday.
Master Bedroom - Double bed, bedside tables, chest of drawers, wardrobe and a cosy chair. En-suite wet room with; a shower, wc, and washbasin.
Bedroom Two - Twin beds and a bedside table.
Bedroom Three - Twin beds, bedside table and chest of drawers.
Bedroom Four - Bunk bed and single bed, chest of drawers and bedside table.
Wet room with a black stone surround; white washbasin, w.c, chrome shower and utility area with washing machine.
UPSTAIRS
Bedroom Five - Double bed, bedside tables, cosy chair and a wardrobe.
Bedroom Six - Double bed and a single day bed, wardrobe, 2 seater sofa and 2 bedside tables.
Family bathroom includes a bath, mixer taps, shower over, washbasin, wc and a wall mounted mirror.
The kitchen is the real centre of the home with a large wooden central dining table with bench seating. This kitchen has plenty of the usual gadgets you would expect in a self catering property such as; oven, fridge freezer, dishwasher, microwave, Dolce Gusto coffee machine and toaster and some additional fun features including; Induction hob, electric steamer with lots of special options in creating wonderful culinary delights to feed the family.
Living room with a variety of comfortable seating, wooden unit with a flat screen free-view LCD TV and a woodburner for those winter evenings.
OUTSIDE SPACE
Patio doors from the kitchen and living room to the fully enclosed garden with patio furniture, Enjoy days and nights entertaining with toasting marshmallows on the fire pit, dips in the large jacuzzi hot tub*, cook on the coal BBQ while chilling on the decking or join the children on the lawn with a game of handstands or table tennis!
Need a quiet moment? At the front there is a picturesque stream running under the driveway, down a few steps this private area provides a secluded space to relax, sunbathe and listen to the calming stream.
HIGHLIGHTED FEATURE
For us it is one of the best holiday cottage with hot tub in Croyde we have to offer, we promise that you won't be disapointed and what's more the location of this 6 bedroom holiday cottage is perfectly situated for visiting The Manor pub which is just moments from Shippenrills front door !
Read more about Shippenrill
Hide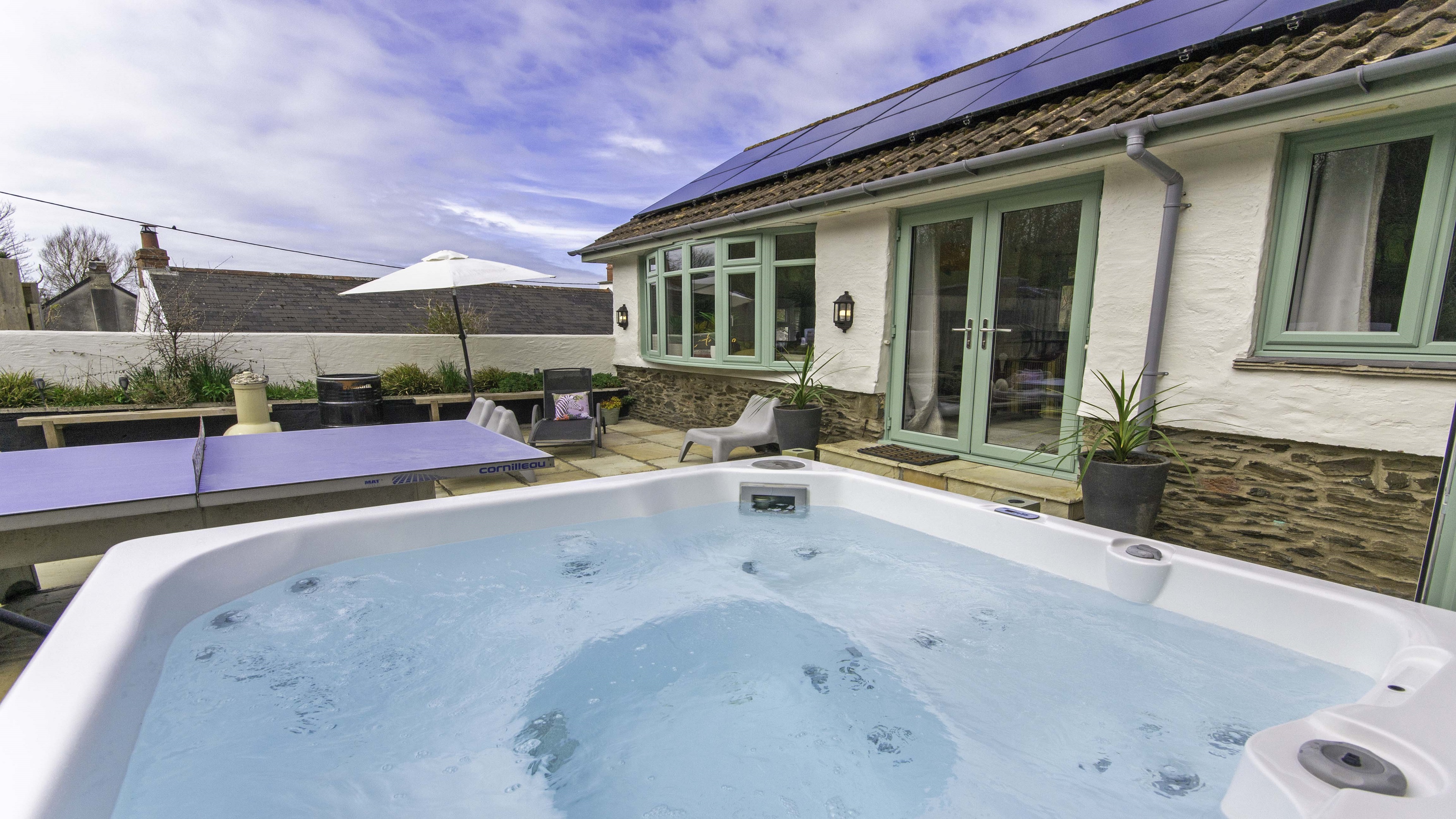 Amenities
Living Space

Wi-Fi

Freeview

Wood Burner / Fire place

Large LCD TV

Football Table

Kitchen Facilities

Electric Hob & Oven

Fridge Freezer

Cafetiere

Blender

Cooking & Baking Essentials

Dishwasher

Coffee Machine

Microwave

Washing Machine

Outside Space

Hot tub* (Charges Apply)

Ping Pong Table

Sun Loungers

Wetsuit / Surfboard Storage

Fire Pit

Garden Furniture

Coal BBQ

Driveway Parking (4 cars)

Miscellaneous

Linen Provided

Ironing Board and Iron

Clothes Airer

Ensuite Bathroom

Hair Dryer

For Children

Highchair

Stair Gate

Fire Guard

Travel Cot

Toddler Cutlery Set

Board Games

Dog Friendly

4

Distances

Walk to the Beach

Walk to Places to Eat

Walk to Village Centre

Drive to Supermarket

Accessibility

Ground Floor Bedroom & Bathroom
Rates
Holiday Extra Enhancements 
Subject to availability and if requested upon booking
Pets - £40 (per week per pet) (Max 4)
Hot Tub Usage - £175 (weekly) 
Hot Tub Usage - £120 (short breaks) 
Late Departure (6pm) - £120  (For out of season breaks ending on a Sunday & subject to availability)

Highchair   -  Free of charge
Travel Cot - (excludes linen)   Free of charge
Stair Gate - Free of charge
Additional Booking Information
Check-in time; from 5 pm | Check-out time; 10am
30% of the rental cost and non-refundable booking fee is required to secure the booking with the balance due 7 weeks prior to arrival.
Holiday Cottages with Hot Tubs* - Management
For us to comply with Health & Safety regulations all hot tubs are emptied, sanitised and re-filled with fresh water and chemicals before the commencement of every new holiday. Therefore, we are unable to provide any guarantees that the hot tub will be up to full working temperature until the morning after your arrival. 
Where possible our service providers will endeavour to prepare your hot tub in advance, Thank you. 
Availability
Unavailable
Changeover
Short Breaks
Discount
Map
Local Amenities Nearby
BAR
:
Croyde Pubs & Restaurants
-
45 metres
BEACH
:
Croyde Beach
-
1.2 miles
GOLF
:
Saunton Golf Club
-
2.9 miles
VILLAGE
:
Braunton
-
5.0 miles
Reviews

Sophie





Great for big groups
The house was spacious, clean and warm, with a large table that all 14 could fit round. Hot tub was great and warm for when we arrived. Rooms were all really comfortable. Really useful little hall night lights on sensors which ment no lights needed to be on at night. Great outside space for hanging wetsuits, perfect position for parking and walking to the pub.
Nov 2023

Albie





Thank you! We loved it!
Five stars all round thank you very much!
Oct 2023

Arn





Thanks for having us!
We absolutely loved our time here, the house has everything you need for a big group and not too far from the beach and all the shops/pubs.
Sep 2023

Nancy Moore





Good size house. Croyde beach walkable for children etc. Putsborough beach a good walk up lane, which was very muddy, over to lovely dog friendly beach at Putsborough. Good sized garden and hot tub. Owner/housekeeper very helpful.
Aug 2023

Anonoymous





Amazing property and very well equipped. The outdoor space the layout was perfect for a large group. We loved the table tennis table and the hot tub.
Good quality mattresses and pillows meant a really comfortable sleep.
Lots of crockery and cutlery which was all really lovely and a meant we were not constantly washing up or using the dishwasher
We had 3 generations staying together and all loved it.
Jun 2023

Radhika





We had a wonderful family holiday at this property.
The team at Croyde Holidays gave thorough instructions about finding the house and checking in. We had also requested the hot tub and got clear instructions on it's usage. The property was tastefully decorated and kept very clean. The host team were responsive and helpful. Special shoutout to Rebecca (property manager) who answered all my queries quickly and also shared helpful recommendations. Definitely recommend this place to anyone travelling with family. We would be back here.
Jun 2023

Kate





Amazing house, amazing staff and spot on location.
The property is stunning- it's perfect for a group and has everything you could possibly need! lovely layout, comfy beds and beautiful bathrooms and outdoors.
Mar 2023

Naomi





We had a wonderful time.
Really responsive, The location is great and we had everything we needed for our short stay. The kitchen is well equipped and the surroundings are really beautiful. I would recommend for a peaceful and enjoyable time. The home is spacious and well looked after. The pictures don't really show how beautiful the home is. Especially the outside and the brook at the entrance to the home. We had a lovely stay
Mar 2023

Paul





Great house that suited our gang of 11 perfectly. Perfect location, for walks and the beach. Hot tub an addd bonus. We will be back.
Jan 2023






We had a fabulous stay at Shippenrill. Perfect location, Family and dog friendly and worked well for us as a group of friends coming from across the south of England for a new year's celebration. My only slight gripe would be that the entrance to the drive way is very tight (obviously can't be changed)
Jan 2023

Kaye





Brilliant location very homely accommodation everything we needed was there. Handy for several pubs. Would definitely return
Dec 2022






Very comfortable house with good well equipped kitchen.
Great position. Plenty of room for us but would have been a bit of a squeeze with more people, partly because it was December and too cold to enjoy the outdoor furniture. We had a good week and would return again.
Dec 2022

Chris





Great cottage, pet friendly, spacious, well-appointed
Sep 2022

Stephanie Collins





COULD NOT BE IMPROVED IN ANY WAY!
The perfect house - ideally located (opp the Manor pub!) with an easy flat walk into the village. The house was so well equipped with a well positioned sunny garden. love the hot tub and table tennis. Thank you for the perfect stay!
Sep 2022

Peter





Had a wonderful time in this house that has everything to make the holiday memorable. If you want an ideal family holiday in a spectacular house and in a stunning location this is the house for you.
Jul 2022

Jane Munns





Delightful upside down house. Downstairs perfect in the hot weather!
Jul 2022

Finn





really nice house
we had a great time staying there. Great location and the house was setup really well for 14 people to stay. would recommend to anyone wanting to stay in Croyde.
May 2022

David





Fantastic Service
Great house, great location, cannot fault a thing. First class
Apr 2022

Soize





Beautiful house in a beautiful location.
We had a wonderful week at Shippenrill. Pubs and beaches on the doorstep so could walk with the dogs without driving. Thank you and we hope to return.
Jan 2022

Callum





Fantastic accommodation and experience, would highly recommend for large family groups
Nov 2021

Graeme





Amazing house! Peaceful location.
Property manager and Croyde Holidays were excellent and always helpful and very quick to reply. We hope to return the near future, Thank you for everything.
Nov 2021

Alexandra





Great property & Great Location
This property is lovely but lacking in drying facilities for your clothes. We had beautiful weather and were out at the beach in the day and hot tub by evening
Oct 2021

Richard





This is a fantastic house in a very good location
We loved Shippenrill, thank you - all went very smoothly for our stay
Sep 2021

Pat Mullins





We loved the house!
Great location, with a beautiful garden with lots of space. The house itself felt really roomy, and very well kept. Great kitchen. Would definitely rent again!
Jul 2021

Lesley





Fabulous house with everything you need for a very comfortable stay.
The kitchen is also really well equipped. The large hot tub is great. The private enclosed garden is ideal for dogs and big enough for a good run around. The house location - a stones throw from The Manor pub and a short walk from Croyde is also perfect. We had a fabulous time. Would highly recommend Shippenrill
May 2021

Pauline





Fantastic house in the most beautiful little beach village. Well equipped and very stylish, homely feel.
Oct 2020

Nicola





Thank you for letting us stay in your beautiful home
This stay exceeded all expectations - hot tub, ping pong, table football and large bedrooms with very comfy beds. We had all amenities we could ask for including washing line, washing machine, oven and dishwasher. It is only a 10 - 15 minute walk from the nice sandy beach where there are some great waves for bodyboarding or surfing. Cannot recommend this place enough, we had the most amazing week!
Oct 2020






Stunning property in great location
Stunning property in great location
Plenty of space Gardens at front are beautiful. Large enclosed garden to rear very safe for dogs
Hot tub is a bonus after a day out at the beach or walking
Sep 2020

Sue Tegg





One Of The Cleanest Rentals We Have Ever Stayed In
Shippenrill was very well equipped for the 11 of us who stayed, the house was very clean, the front & rear gardens a delight as was the hot tub, we would all definitely look to book again.
Sep 2020

Karen





Excellent large multigenerational family cottage. Good spaces inside and out. Well kept and equipped.
Aug 2020

Adam





Online Review
Beautiful home Fantastic communication Such a perfect location in Croyde, you are local to everything! Because everything was so lovely, there isn't anything really we could mention to improve.
Feb 2020

Online Review





Online Review
An absolutely stunning home, with everything you could ever need in such a perfect location. Couldn't have asked for more; the perfect place to spend a weekend relaxing and exploring with friends, thank you!
Dec 2019

Online Review





Online Review ★ ★ ★ ★ ★
Beautiful house with everything you could need, everything immaculate and both inside and outside the property top notch -good location -would recommend highly
Aug 2019

TripAdvisor Review





Tripadvisor 5 STAR Review - " Best rental in Croyde"
This was our third stay at Shippenrill, testimony to how brilliant it is. The house is super spacious, perfect for three families and unlike some rentals feels really homely, well cared for. The enclosed garden is a great size, and the hot tub as popular with the adults as it is with the kids. You can walk everywhere too which is what makes croyde such a great spot. 15-20 mins walk to several beaches and across the road from the pub. Dog friendly too. We'd highly recommend a stay here and look forward to our next trip.
May 2019

Anonymous





This is a wonderful property
very stylish and comfortable and well-located in the centre of the village. We loved the hot tub! There was 12 of us in our party - celebrating a big birthday - and we couldn't have been happier with it.
Feb 2019

Carol





great location, pubs, village, walks, we had a great time apart from minor issue
Nov 2018

Sarah Lawes





It was a lovely place
A wonderful family home that made our holiday week fantastic. Please do spend that little extra on the hot tub, it made our evenings perfect!
Oct 2018






Tripadvisor 5 STAR Review - " Perfection in Croyde"
Shippenrill was just perfect! It is in the best location within easy walking distance of the beach, shops and pubs. The house has enough parking for 4/5 vehicles; is brilliantly set out for families with fab facilities including the wonderful hot tub which we used every day! In the recent hot weather some of the bedrooms provided a welcome cool retreat as 4 were on the ground floor. We love Croyde itself; quiet clean beach (out of school holidays ); great walks; The Manor pub is a stones throw from Shippenrill and we had brilliant service with very welcoming staff. Rebecca and her team were really helpful in getting the house all ready for us and she was prompt in getting back to us if we contacted her. Would recommend this property to anyone, families and close groups, without any hesitations!
Jul 2018

Nigel





Delightful position for the village, pub and beach.
Great layout and very spacious. Well equipped and hot tub was a great addition. Garden was both child and dog friendly.
Apr 2018






We had a very pleasant stay at Shippenrill
A lovely house for a large family group. The location was good for walking to Croyde beach and the slightly longer walk to Putsborough beach. Having a good pub across the road was also useful!!
Apr 2017

.





Amazing place. So glad I booked it.
Everyone loved it. Very close to the Manor House inn pub where the food was amazing. There were other pubs and shops in close walking distance and a short walk to the beach
Mar 2017

Lynne





The house is wonderful and felt like home for our family stay.
Well worth paying the extra for the hot tub. Quirky decor enhanced our enjoyment of the property.
Mar 2017

Sarah Matthey





This cottage was outstanding, we couldn't have asked for anything more.
The rooms were so well dressed and the entire property immaculately clean. Everything was user friendly and there was nothing missing that we required. The hot tub was a fantastic touch and really made the evenings after our surfing. Thank you so much to the owners for providing such a splendid property for us to use! We will definitely be returning.
Jan 2017

Angela Reed





This is a beautiful property that the photos don't do justice.
As a big party we all had plenty of room. The kitchen was well equipped with everything we needed. In a nice quite location but very close to shops, beaches and facilities.
Jan 2017

Hartsthorne





Great house. spacious and everything we wanted.
Good holiday company, would recommend. Fabulous spacious house in great location. Hot tub highly recommended. Manor Inn opposite is a warm and friendly pub with great food and service. Walking distance to village and the beach.
Oct 2016

Rob





TRIPADVISOR REVIEW: Amazing Holiday Home For The Whole Family
For a holiday with a big group of you Shippenrill house was an amazing house that had everything that you could possibly want for a relaxing holiday. When you first walk in u already feel like your home from home. Everything in the house is decorated so lovely and pretty, a lot of love and hard work has gone into making it how it is. Everything was spotless and the kitchen had all the utensils you needed, the living room & kitchen area was so spacious and looked out onto the beautiful garden. The garden has a table tennis table and the amazing hot tub, i would definatley recommend to add on the hot tub for your stay it was such a nice treat whilst your away going in whenever you fancy. Even if you didnt want to do anything in the garden you could still keep an eye on whats going on outside from the living room which is perfect for familys. Being in the heart of croyde everything was in easy walking distance pubs and shops were litrally minutes away.. And to croyde beach it took us about 20 minutes. I will definatley be returning we had such a nice week and the house itself had a big part of making the stay amazingly fun.
May 2016

Nicola Vaton





TRIPADVISOR REVIEW: An amazing stay at Shippenrill - fantastic house and the hot tub is awesome!
The house is amazing. The location was brilliant. A pub was literally across the road (not noisy). The shops and more pubs were a 1 minute walk away and the beach was a 20min walk. The house is huge and beautifully decorated. So much room and very clean. It was clearly very well looked after. We paid the additional amount for the hot tub and it was so worth it. The hot tub was immaculately clean and actually hot, which sounds bizarre, but I have been in hot tubs where the temperatures never meet the required heat. This one certainly did and was a good size. We made use of the table tennis which is good fun too. For those of you who have dogs, the garden is very well secured so there are no concerns at all of dogs escaping! The house was lovely and warm and very peaceful (could not really hear road traffic or anything like that). All in all an amazing stay and would definitely go back!
May 2016

Matthew Conroy





Fantastic place to stay, well heated and clearly very well looked after.
An excellent house to stay in which exceeded all of our expectations! Croyde is an fantastic place to visit and I would recommend it to anyone.
Mar 2016

Leah





The property is incredible. The photos don't do it justice.
Croyde Holidays were brilliant - very efficient at dealing any enquires we had. Very friendly- made us feel very welcome! The property was spotless, couldn't fault the cleanliness! Can tell that is has been maintained to a high level. Would 100% book to stay here again, we are already planning our next trip back.
Dec 2015

Mark Smith





Perfect Cottage, Clean, helpful and friendly.
For a family holiday in a perfect location waking distance from the beach look no further. The house was clean all the beds very very comfy. With a great living space to spend with the family it's just perfect. Thank you x
Sep 2015

Oscar Miles





TRIPADVISOR REVIEW: Large homely house with fantastic facilities, location and host... perfect!
My stay at Shippenrill overall surpassed my expectations. I'd definitely recommend this house to any large group of people looking for a comfortable week near a beach. I have not complaints to raise and here's a few of the main positives: Great location - The house is situated opposite a pub with good food and within walking distance of Croyde Beach and Putsborough Beach. Helpful and friendly owners - Very welcoming property owner who was easy to contact and happy to help. One evening, the owner came over at very short notice to fix a problem with the fuse box. Fantastic facilities - The house is very well furnished with a fully equipped kitchen. The hot tub and fire pit provide the perfect entertainment for the evenings and there's a roomy living room for the rainy days.
Jul 2015

June Pryce





Lovely house & garden & location - would definitely recommend it.
Shrippenrill is a lovely house in a great location close to the village & pub. It was also walking distance from Putsborough beach (as long as the odd hill doesn't bother you). We look forward to returning in the future.
Jun 2015

Wayne





Fantastic house and fantastic location. (April 2015)
Beautiful rooms and quality mattresses meant everyone had a great nights sleep. Everything you could need from a holiday home, garden and hot tub were great, plenty of bathrooms and really well equipped. We will definitely be back!!
Apr 2015