Unique Holiday Stays with Luxury Cottages In North Devon
Luxury Cottages In Croyde
When you think of a luxury item that product is one that gives us a real feel good factor, it's something that is unique and special with that sense of wow! We all are looking for that next luxury and in terms of holiday homes in North Devon we certainly can provide just that !
Our selected luxury cottages in North Devon have been handpicked just for you to highlight a unique holiday experience, that you are bound to love. Croyde is perhaps the most desired seaside destination and we have focused our search primarily to showcase the wonderful Croyde luxury cottages that we have.
The luxury cottages in Croyde we offer are extremely well appointed, maintained to a great standard and are what we class as a 'luxury holiday' due to their main selling points whether that be a bubbling Jacuzzi hot tub or a spectacular sea view to enjoy. We believe you deserve the best, so feel free to browse our selection of the very BEST luxury cottages in Croyde.
Whether you are searching for a holiday cottage with modern facilities, beautiful decor and high tech gadgets then Ladywell is a great choice for you. Ladywell is perfectly positioned in Croyde for visiting the beach and Croyde village centre, This luxury cottage even includes a pool table, hot tub and outdoor pizza oven for a great evening's entertainment, theres even SKY Q Multiroom TV with sports and Netflix. What's not to love!
How about a property with a superb view? Stables offers spectacular panoramic views overlooking Croyde beach, it isn't often you find a property with such an incredible view aspect and it just had to be idendified as one of our luxury cottages in Croyde for this very reason, it really is a great place to relax, unwind and enjoy the calming sounds of the sea waves.
Our aim is to inspire your next choice of holiday by highlighting our Croyde luxury cottages direct to you.
Style and Sophistication of a Boutique Hotel with a Private Hot Tub*.
Charming and sophisticated reverse living home with great facilities; Hot tub, fire pit, games table and more!

Shippenrill in Croyde is the perfect choice for guests that enjoy the style and sophistication of a boutique hotel, but prefer the privacy and convenience that self-catering offers. Treat yourself to a quality experience.

The 6 bedroom holiday cottage is cosy with traditional features while having a modern touch with a selection of stylish bedrooms on the ground floor, one En-suite. You'll find an open plan kitchen living area on the first floor with access to the garden through two sets of French doors that fill the room with light. Relax and unwind with a glass of wine around the cosy wood burner or a enjoy a game of table football. Tthe property has a large lawned area and patio with a table tennis table and garden furniture with a table and chair selection perfect for enjoying the afternoon sun and moments when the bubbling hot tub* calls.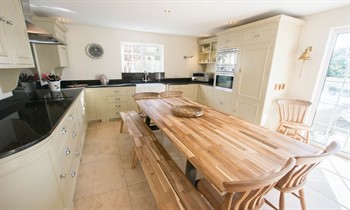 Coastal Cottage with Uninterrupted Sea Views of Croyde Beach
Magical moments are made waking up to magnificent uninterrupted sea views across Croyde Beach.

If you're looking for coastal side beach living in a truly spectacular location, look no further with unrivalled panoramic elevated sea views of Croyde beach , Stables is just what you're looking for. Magical memories are made from the second you wake up until the second your head hits the pillow with magnificent uninterrupted sea views from this incredible house.

Enjoy four lovely decorated bedrooms (Two benefiting from sea views) and beach themed styled living with a cosy log burner. Laze around soaking up the coastal breeze on the decking area with sheltered glass screen and take in those splendid 180 degree views of Croyde beach, Baggy Point and toward Lundy Island.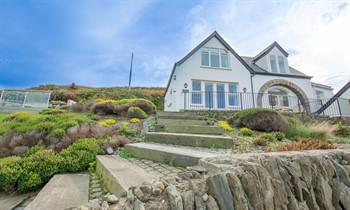 Super Stylish Property In Croyde with Pool Table & Hot Tub*
Super stylish large property with superb facilities; Hot tub, pool table, log burner, pizza oven and TV Room !

Designed with family life firmly in mind, this detached large cottage that sleeps 12 is a home from home stylish property offers something for everyone whether inside or out. Children will enjoy exploring the large enclosed garden and the cinema room, with games and books, whilst parents enjoy al fresco dining with the use of the pizza oven or relaxing amongst the bubbles of the Jacuzzi *hot tub.

The house is finished to a beautifully high standard that makes it easy to enjoy relaxation time in style. you'll also discover a SKY Q Multiroom TV with sports and Netflix in the lounge and a pool table in the conservatory to brush up your skills. Ladywell makes the perfect place to dine with friends the dining room comfortably seats twelve so you can gather the group for that catch up dinner.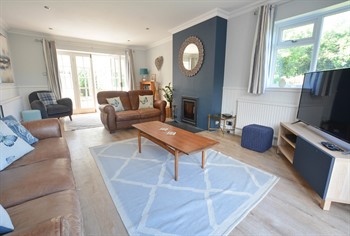 Contemporary Design Twist with Heritage Character and Hot Tub*
Relax in the hot tub at this beautifully presented detached cottage tucked away within the heart of Croyde

This spacious detached three bedroom cottage has a contemporary design twist whilst retaining its heritage character. It's the kind of home from home that's makes heading back from the beach as much fun as the rest of the day, you'll have the use of the warming log burner and the private bubbling hot tub* making this cottage a little more special.

If you're keen to make the most of the setting and dine al fresco during your holiday, you'll find a table and chairs to make it easy to tuck into those family feasts in the fresh air while the family relax. Tucked away your positioning could not be any greater, as you are in the heart of the village without being disturbed from the hustle and bustle. Fancy a trip to croyde beach, it is a handy 10 minute walk from the cottage giving you the best of both worlds.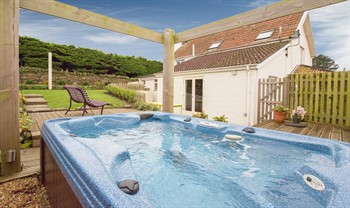 2 Luxury Cottages By The Sea Overlooking Croyde Beach - WOW!
Looking for beach side living in a spectacular location with unrivalled panoramic sea views, then this is it!

Stables and Beach Breeze are two fantastic properties that help create magical memories for large families perfect for celebrating a special occasion , enjoy being surrounded by the sounds of the waves from Croyde beach below and the captivating sights of the magnificent uninterrupted elevated sea views while having a glass of something chilled from this highly desired prime location in Croyde.

Enjoy two fabulous luxury cottages by the sea with a total of 6 bedrooms that are all beautifully styled (Two benefiting from sea views) and beach themed styled living with a cosy log burner. Lazy around soaking up the sea breeze on the private decking area with sheltered glass screen and take in those splendid 180 degree sea views of Croyde beach , Baggy Point and toward Lundy Island.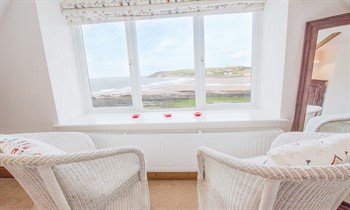 Coastline Property with Impressive Panoramic Sea Views.
Imagine being surrounded by breath-taking sea views, well look no further as these are a major feature of this seaside coastal retreat with views across Woolacombe beach, Morte Point & out to Lundy Island. Enjoy incredible views from the open plan lounge diner, master bedroom and spacious roof terrace. Location could not be better in an elevated position above the unspoilt Grunta Beach (which can be accessed only by foot) and is very close to the surfing beaches of Combesgate and Woolacombe, you are surrounded by beautiful National Trust land, with many walks closeby, including the breathtaking Morte Point.

This coastal three bedroom bungalow has the benefit of two en-suite bathrooms and a family bathroom with shower and a lovely enclosed rear courtyard for more sheltered dining. Relax and unwind in the evening after a day exploring with use of the warming log burner or why not take a glass of something chilled up to the large roof terrace and enjoy watching the sunset over the beach nestled below.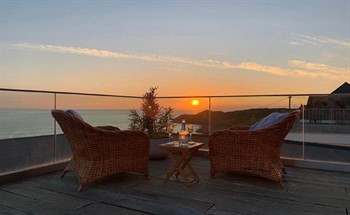 Sleeps 6