Beware rip tides. Offshore winds. Rip tides. Rocks.

Follow directions of lifeguards. Take heed of warning

signs that should be displayed at every beach.
Do not swim and drink. Never surf immediately after a meal.
Never surf alone or at night. Know your limits.
Never hire or use a board without having taken advice from experts.
Be considerate of other beach users.
Have a good safe Surf Holiday in Devon.
Choose from our range of cottages in North Devon that are suitable for larger groups.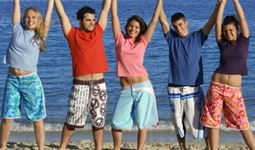 Take a Look at our cottages available in Croyde, a popular holiday destination choice for families and surfers for its award winning naturally sheltered beach and surfing opportunities.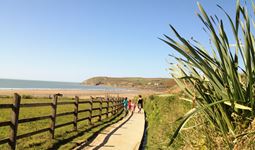 Take a look at our cottages available in North Devon, our complete range of cottages are all situated close to one of the best beaches in the UK, offering you a varied selection with Croyde Holidays.
Surfing in North Devon Guide
The North Devon region has a solid and reliable reputation for its great surfing conditions, inparticular Croyde beach. Croyde has been the centre of the surfing world for generations in this part of the world the west-facing beachbreaks and in particular the fabled low tide barrels create the perfect wave as locals and visitors aim to get their fix. Surfing in North Devon is one of the most exciting, thrilling, intriguing and fun activities there is to try when visiting the area. Surfing does come with its complexities, it will test you and excite you what ever your level of skill.
Discover how truly wonderful surfing in North Devon can be with detailed information on surfing schools in Croyde, Croyde surfing instructors that are highly recommended, safety water tips to ensure your safety at all times, North Devons surfing conditions with the best optimal time of day to hit the water and the magical beaches in North Devon to explore.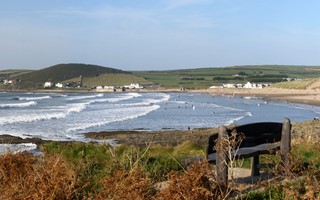 Croyde is one of the Premier surfing breaks in the UK. A great short Boarders wave and best surfed at low tide, Croyde surfing conditions produces a very fast wave. On a good day the waves barrel at low tide gives the rider a great thrill ride. Croyde rests on the North Devon coast and the Atlantic swell drives in great waves nearly all year. Croyde is a ¾ mile long and stretches between Down End and Baggy Point. Some serious Rips run here so it is not for the faint hearted.
The RNLI patrol the beach Easter to October. Producing such a World Class wave it is no wonder that Croyde attracts many Croyde surfing competitions held annually. The Saltrock Open, Jesus Surf Classic and The Goldcoast Oceanfest.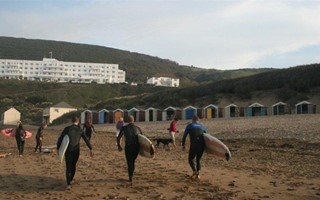 Saunton is a Premier Longboarders wave. The two miles of flat golden sand produces a long slow steady wave. Saunton beach is best surfed 'On the push' and a couple of hours after High tide. It produces a good solid beginners wave and holds the longest ride!
Many Longboarding competitions are held here including the Hotdoggers Longboarders championship and the BigBoy Paddle in June. International wave riders flock here to complete. Saunton has NO lifeguard on Patrol.
Error parsing XSLT file: \xslt\[XSLT][TBS]WidgetFeaturedContent.xslt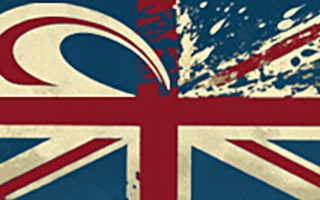 The Museum of British Surfing - built by you, the British surfer! Showcasing surfboards through the ages, Learn how surfing originally came to be. Based in Braunton this spectacular museum is a MUST place to visit, dont miss out!
Flexible and innovative museum - each year a new themed exhibition at the venue which then goes on tour around the UK. There is special focus on young people and those who might never have been to the coast - Look out for our special beach days, and surfing & skateboarding events.
Surfing instructors in North Devon
Surfing Croyde Bay

If you want to learn to surf in Croyde Bay, you've come to the right place. Our surf school is Devon's best surf tuition outlet. So if you want to learn to surf in Croyde Bay, take one of our surf holidays with one of ourqualified surfing instructors and learn how to ride waves - properly!

SCB offer 4 main surf tutition packages. Each course has the same basic structure: A de-briefing session/initial preparation at HQ, followed by a 10 minute warm-up/walk to the beach before finally hitting the surf.
Get wet surf school


When you're on holiday, relaxing and having fun are two of the most important things on the agenda. At Get Wet we are dedicated to making sure you get both!

Get picked up

Get driven to the best surf spots

Get taught the ropes

Get surfing
Walking on waves surf school - Saunton


Walking on Waves will accomodate all surfing abilities; whether you are an absolute beginner or an all seasons board rider we can introduce, improve or repair your North Devon surfing skills.

Our basic course covers beach and sea safety (relevant to Saunton Sands) and dry sand tuition/techniques followed by open sea practical coaching.
Surf south west


Surf South West run the UK's leading surf schools and was the first to be awarded Level 4 status by the British Surfing Association. This is the highest level attainable and is awarded in recognition that we have the highest standards of coaching.

Based in Croyde Bay, Devon, our experience and reputation has ensured that we are the only surf school officially permitted to instruct surfing on both Croyde Bay and Saunton Sands. This means we have satisfied the stringent conditions imposed by the beach owners to ensure that we operate safely and professionally. We have fully equipped surf schools on both beaches.

Whether you want to catch your first wave, take your surfing to the next level or improve competition skills, Surf South West have been the UK's leading providers since 1996. Visit us and share our passion for surfing!
Nick Thorn - Woolacombe


The team at Nick Thorn Surf School have helped hundreds of people get into the water and experience the thrill of surfing their first wave. Our dedicated instructors provide a supportive environment where you can master the fundamentals of the sport in preparation for your future surfing adventures. We also teach you how to stay safe in the water and the basics of surfing etiquette. We offer lessons to surfers of all abilities and ages (from 8 years and above).
North Devon Surf School


Learn to surf with the North Devon Surf School, one of the top North Devon surfing schools in the UK. We are based at Westward Ho! beach, North Devon.

We offer surfing lessons, surfing courses and equipment hire.

We have been running Croyde surfing lessons in North Devon for over 20 years. In that time we have taught people to surf from every walk of life, ability and all fitness levels, not to mention age variations.
Barefoot surf school


Our Lessons take place at Putsborough Sands, the safest and best learner beach in North Devon. Quieter and more spacious than the busy beaches of Croyde and Woolacombe, yet just a mile or two away. The 2 hour sessions cover the essential safety factors and take you carefully, step by step through the skills, building confidence, and showing you how to enjoy the waves. Culminating in smooth 'pop-ups' - getting you to your feet, using a technique developed to suit you, and riding the wave in… standing!

We have built a reputation that we are very proud of, for patience and treating every customer as an individual. We try desperately to avoid a 'one size fits all' approach, and make every lesson a really fun session. We specialise in beginners.